Table of goal data by year

| Year | Rank | 100/20 Mbps |
| --- | --- | --- |
| 2021 | #29 of 87 | 86.65% |
| 2020 | #28 of 87 | 84.14% |
| 2019 | #27 of 87 | 83.06% |
| 2018 | #23 of 87 | 79.44% |
| 2017 | #21 of 87 | 76.35% |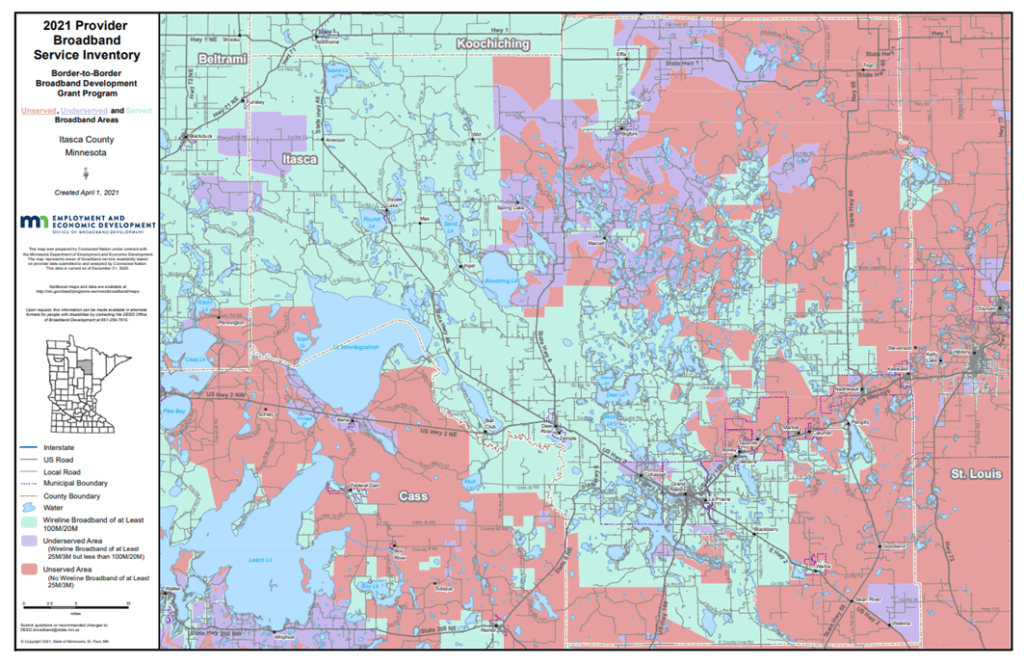 Rank: 29 (out of 87) for access to 100/20 megabits per second (Mbps)
Itasca County has seen very small incremental increases in broadband over the last few years. But they showed a boldness in last 2020, when they decided to invest $293,000 in CARES funding in broadband with Paul Bunyan.
Projected allocation of American Recovery Project ARP funds in Itasca is $8,752,686; broadband is one possible use.
If they are able to go bold with ARP funding for broadband they may go a long way toward ubiquitous broadband, but for now, they stay at code yellow.
Find more articles on broadband in Itasca County. (http://tinyurl.com/grujo6t)
Households with Device Access
Computer
86.9%
93.6%
statewide
Desktop or Laptop
72.9%
80.6%
statewide
Smartphone
8.9%
7.7%
statewide
Tablet
54.5%
63.8%
statewide
Has Worked with Blandin Foundation
Yes
Has Received MN Grant(s)
Yes
2017 – Paul Bunyan Communications – North Central Fiber – GRANT $802,620
2016 MEDIACOM HARRIS TOWNSHIP – GRANT: $224,369
2016 – PAUL BUNYAN COMMUNICATIONS HUBBARD, BECKER & ITASCA COUNTIES – GRANT: $1,742,232
2015 – Paul Bunyan Central Itasca County Fiber – Grant Award: $1,980,000
Paul Bunyan Communications – North Central Minnesota Fiber Project– GRANT $2,562,916
Government Districts
U.S. Congress: CD 8
MN Senate: 05, 06
MN House: 05A, 05B, 06A
Overlapping MN Reservations