Image: Rachel Herring
Toward a Sustainable, Equitable Future
Two years of compounding crises – the global pandemic, racial unrest, and election uncertainty – have laid bare disparities of place, race and class faced by rural communities in Minnesota.
We have seen the stress of these crises drive a wedge between neighbors, friends, families and communities. Formal and informal rural leaders across the state faced intense challenges in school board and city council meetings and social media. They felt it at family dinners and in workplaces. And we all have seen and felt the result: community connections weakened and lost.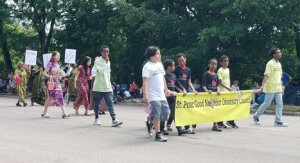 The trauma of the last two years also has made countless people and organizations aware of the need to engage more deeply in rural places.
As the largest Minnesota-based foundation serving only rural communities, Blandin Foundation engages deeply in rural communities. Yet the realities facing rural Minnesota communities and Native Nations today call us to find new ways to help rural people build toward strong futures.
Meeting Today's Moment
After talking to leaders across rural Minnesota, and doing deep research, we came to a few conclusions about what's needed to make change happen. These concepts are at the heart of our Theory of Change.
Grow Community Connection
Can-do communities are rich in people-to-people connections. A strong social fabric generates opportunity both at the individual and whole-community level. Connected individuals stay healthier, are happier, achieve higher education, improve their job outlook and are more likely to have long-term economic upward mobility. Connected communities thrive amidst change, both unintended (disaster, economic uncertainty) and proactive (future-forward community initiatives).
Strong social connections will be critical for rural Minnesota communities to meet this moment's most-promising opportunities and stickiest challenges:
Demographic shifts: With international in-migration outpacing natural change (births/deaths) and domestic migration, rural communities will increasingly see new and diverse people who can bring fresh perspectives and ideas to community change efforts.
Energy transitions: In 2007, Minnesota set a goal of reducing carbon emissions by 80% by 2050. While this transition will be challenging for rural communities, it will create opportunities to examine and change the structures that hold back communities from pursuing sustainable solutions.
Digital opportunity & inequity: Only 5% of rural Americans work digital jobs compared to 15% nationally, but post-pandemic work environments offer new opportunities as rural places transition out of resource-based economies.
Learn more about your county's social connectedness here.
Boost Access to Resources
By many measures, rural places do not receive their fair share of funding and other resources.
Blandin Foundation is orienting our work to make these realities seen and heard, and to equip rural people to talk about and ask for the resources they need to get to work on the change that's needed to systems that undervalue and underfund rural communities.
Fresh Direction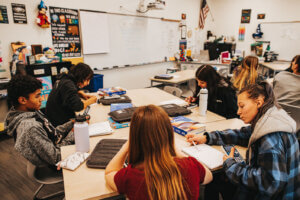 Our new vision invigorates our approach:
Rural Minnesota places that welcome diversity, address injustice and embrace change to create a sustainable and equitable future.
We are retooling our grantmaking and developing programs to build on our experience in community leadership and broadband, and align toward this vision.
New Frames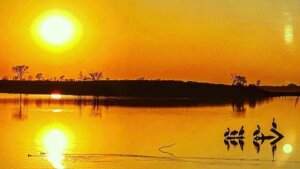 We are using two fresh frames to bring rural's unique needs into crisper focus, so we can structure our work to best align with the greatest needs.
As we have for decades, we will continue to pursue two distinct but interwoven strategies, one for our Home Giving Area and one for statewide rural work.
Equity of Place, Race and Class
Rural communities and especially Native Nations face systemic discrimination because of place, race and class. We are refocusing our work priorities to address the ways these facets of discrimination are layered, and how their effects build on each other.
Rural Fiscal Policy
Policies created to serve rural communities decades ago are no longer relevant or helpful to communities today. We will bring new research to changemaking conversations. We will raise rural voices in service to people pushed to the margins of our communities, who live the realities of these policies every day. And we will provide skill building so rural people can raise their own voices on issues that matter most to them.
CK's Guidance in a New Time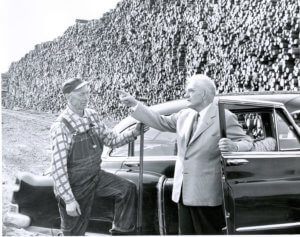 When C.K. Blandin laid out his vision for Blandin Foundation, he had his paper mill workers at the center of its design. He wanted Grand Rapids, and its surrounding areas, to continue having a strong workforce and for its workers to have access to opportunities so that the "the spirit of harmony" continued to thrive.
As we set out on a new strategic direction, we're looking at CK's will with fresh eyes and a modern community context.
Addressing disparities felt most deeply by today's workers in rural Minnesota and our home communities carries forward Mr. Blandin's desire for the Foundation to benefit workers.
Working folks in rural need ways to build community wealth, so resources of knowledge and money stay close to home, building up economic independence and the dignity that brings. We believe that calls us to focus on workforce education and development, support rural entrepreneurship, and give people the tools to advocate with lawmakers and others for what they need, so funds intended for rural places land here.
Mr. Blandin also understood that art and music feed a community's soul and add to the quality of life for workers: some of the first grants were to the high school band. We see and support the ways arts and culture – music, theater, pow wows, sculpture, museums and more – are sources of creative placemaking that celebrate the ingenuity and resilience that are the fiber of rural people's being.
Moving rural places forward to equitable and sustainable futures will take us all. We look forward to learning from you and with you as we step forward together towards strong rural communities.
More About Our New Strategic Direction