Table of goal data by year

| Year | Rank | 100/20 Mbps |
| --- | --- | --- |
| 2021 | #35 of 87 | 84.95% |
| 2020 | #41 of 87 | 79.03% |
| 2019 | #37 of 87 | 78.56% |
| 2018 | #79 of 87 | 23.31% |
| 2017 | #14 of 87 | 90.2% |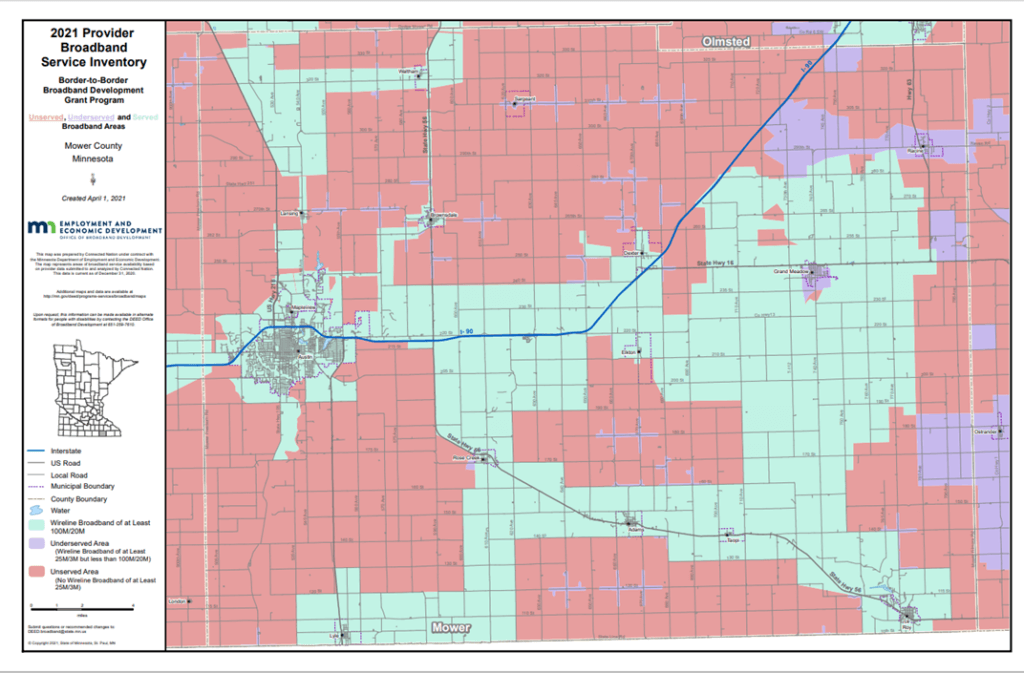 Rank: 35 (out of 87) for access to 100/20 megabits per second (Mbps)
Mower County saw a great leap in access in 2019 and they have had steady growth since. They received a grant in the last round.
Mower County will benefit from a MN State Grant awarded in 2021:
KMTelecom – Rock Dell Southwest Fiber Build – GRANT $404,709
This last mile project will serve approximately 96 unserved households, 70 farms and five unserved businesses in rural Vernon Township in Dodge County and Sargeant Township in Mower County.
Projected allocation of American Recovery Project ARP funds in Mower is $7,769,778; broadband is one possible use.
Mower has some engaged providers in their area. They have received their first MN broadband grant. That might spark an interest in investing ARP funding on broadband. The opportunity is there; they are code yellow.
Past grants: none
Find more articles on broadband in Mower County (http://tinyurl.com/j9sr5gf)
Households with Device Access
Computer
87.9%
93.6%
statewide
Desktop or Laptop
71.9%
80.6%
statewide
Smartphone
8.3%
7.7%
statewide
Tablet
55%
63.8%
statewide
Has Worked with Blandin Foundation
No
Has Received MN Grant(s)
Yes
Government Districts
U.S. Congress: CD 1
MN Senate: 27
MN House: 27A, 27B