Table of goal data by year

| Year | Rank | 100/20 Mbps |
| --- | --- | --- |
| 2021 | #72 of 87 | 60.1% |
| 2020 | #70 of 87 | 58.9% |
| 2019 | #67 of 87 | 52.77% |
| 2018 | #49 of 87 | 54.42% |
| 2017 | #47 of 87 | 47.07% |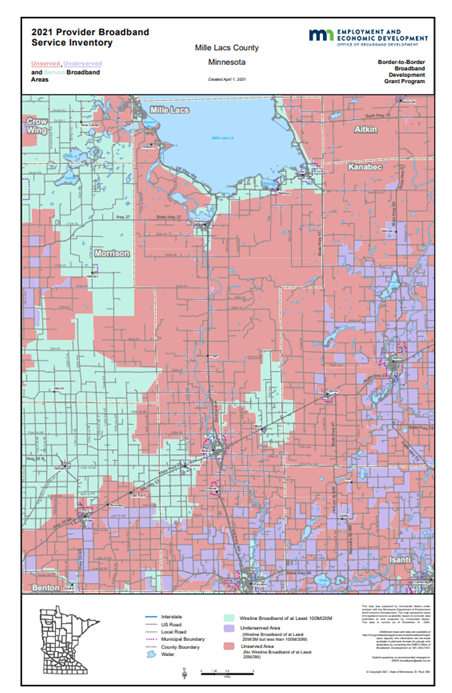 Rank: 69 (out of 87) for access to 100/20 megabits per second (Mbps)
Mille Lacs County has been working on broadband for a while. They were part of the Blandin Broadband Communities (BBC) initiative from 2012-2014. They are part of the Blandin Accelerate program in 2021 as being part of the Mille Lacs Tribal Economy (there is some overlap with county and tribal community); a process to spur community acquisition and deployment of federal and state broadband funds. Initiative Foundation will fund a Mille Lacs Tribal Economy Satellite Broadband Study.
County will benefit from a few MN State Grants awarded in 2021:
Savage Communications Inc. (SCI) – Mille Lacs Band of Ojibwe (Onamia) Broadband Expansion – GRANT $70,261
This last mile fiber-to-the-home (FTTH) project will serve 102 unserved households within the Mille Lacs Band of Ojibwe Reservation in Mille Lacs County.
Benton Cooperative Telephone Company – Ramey Phase 2 Project – GRANT $338,011
This last mile project will serve 119 unserved locations in the Ramey telephone exchange located in portions of Lakin and Mount Morris townships in Morrison County and a small portion of Dailey and Page townships located in Mille Lacs County.
Projected allocation of American Recovery Project ARP funds in Mille Lacs is $5,096,262; broadband is one possible use. Mille Lacs' history with the Blandin Foundation should help the community recognize the value of investing ARP in broadband. Because of their slow progress, they are code red.
Find more articles on broadband in Mille Lacs County (http://tinyurl.com/h7wcdjj)
Households with Device Access
Computer
87.1%
93.6%
statewide
Desktop or Laptop
69.2%
80.6%
statewide
Smartphone
10.1%
7.7%
statewide
Tablet
53.4%
63.8%
statewide
Has Worked with Blandin Foundation
Yes
Has Received MN Grant(s)
Yes
2016 – BENTON COOPERATIVE TELEPHONE COMPANY BOCK – GRANT: $510,000
2019: Benton Cooperative Telephone Company – Ramey Phase I – GRANT $936,759
Government Districts
U.S. Congress: CD 8
MN Senate: 15
MN House: 15A
Overlapping MN Reservations