Table of goal data by year

| Year | Rank | 100/20 Mbps |
| --- | --- | --- |
| 2021 | #21 of 87 | 91.71% |
| 2020 | #18 of 87 | 91.39% |
| 2019 | #46 of 87 | 74.21% |
| 2018 | #55 of 87 | 46.61% |
| 2017 | #48 of 87 | 46.43% |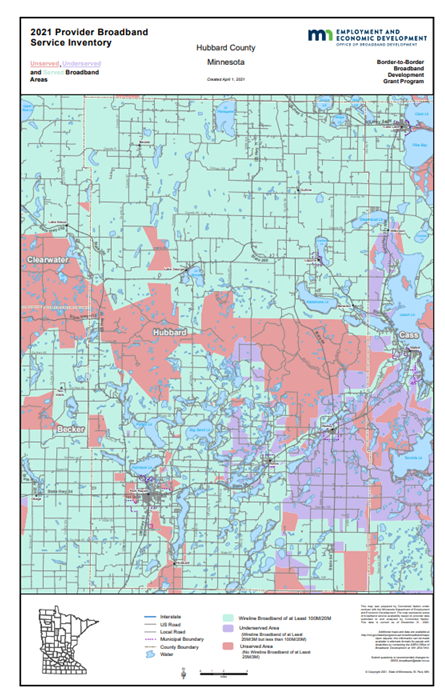 Rank: 21 (out of 87) for access to 100/20 megabits per second (Mbps)
Hubbard County had a great leap in access in 2020. They have stayed stagnant since then. And I don't hear much from them.
Projected allocation of American Recovery Project ARP funds in Hubbard is $4,168,047; broadband is one possible use.
There may be an influx of funding. Most people have felt the pinch of broadband need during the pandemic so hopefully they will decide to invest. In the meantime, they get a code yellow.
Find more articles on broadband in Hubbard County. (http://tinyurl.com/hy7et5e)
Households with Device Access
Computer
88.8%
93.6%
statewide
Desktop or Laptop
75.6%
80.6%
statewide
Smartphone
7.3%
7.7%
statewide
Tablet
55.4%
63.8%
statewide
Has Worked with Blandin Foundation
No
Has Received MN Grant(s)
Yes
2017 – Paul Bunyan Communications – North Central Fiber – GRANT $802,620
2016 – PAUL BUNYAN COMMUNICATIONS HUBBARD, BECKER & ITASCA COUNTIES – GRANT: $1,742,232
Government Districts
U.S. Congress: CD 8
MN Senate: 02, 05
MN House: 02B, 05A
Overlapping MN Reservations