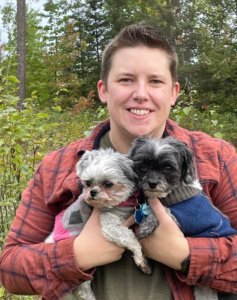 As a member of the Foundation's finance team, Nora handles general accounting, investments, manages inventory and assists with tax and audit preparation.
She holds a bachelors degree in accounting from the University of Wisconsin – River Falls, and is a Certified Non-profit Accounting Professional (CNAP).  She is currently enrolled in the Masters of Business Administration program at St. Mary's University of Minnesota. She worked at the Northland Foundation and Wilson McShane Corporation before joining the Foundation staff. In addition, she served seven years in the Army National Guard.
Nora lives in Grand Rapids with her two teacup Shih Tzus, Biscuit and Sierra. She sees strong, regenerative communities a place that can support itself with a good economy, value of education, and a supportive community. There needs to be inclusion in order for a community to work together and be stronger.