Ellen Squires
Research Officer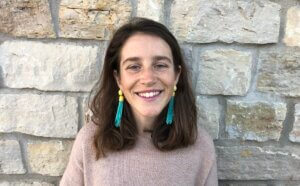 I grew up going to my grandparents' house in Western Minnesota almost weekly, and I always remember feeling the strong sense of place and community in their small town. On any trip into town for treats, we'd inevitably run into my grandpa's friends who wanted to check in on how big we were getting. When my grandpa got sick, my grandma was supported by a vast network of people who pitched in to give her the help (and food) that she needed. The sense of community was unique and powerful.
Through my work as a Research Officer on the Innovation and Design Team, I seek to use data and information to tell stories and to highlight the diversity and resilience of rural communities. I conduct and facilitate quantitative and qualitative research both to inform the Foundation's strategic directions and to advance the mission of building strong communities by elevating rural voice.
My background in public health gives me a perspective of health equity and social justice that I seek to bring to all my work – and not just health of people, but also the health of the land and environment that sustains us. I received my Master of Public Health from the University of Washington and my Bachelor of Arts in Biology and Environmental Studies from St. Olaf College in Northfield, Minn. Prior to joining the Foundation, I held positions in research, health policy, and program evaluation.
Ellen – she/her