Table of goal data by year

| Year | Rank | 100/20 Mbps |
| --- | --- | --- |
| 2021 | #31 of 87 | 86.15% |
| 2020 | #33 of 87 | 82.51% |
| 2019 | #33 of 87 | 81.02% |
| 2018 | #21 of 87 | 80.61% |
| 2017 | #65 of 87 | 29.26% |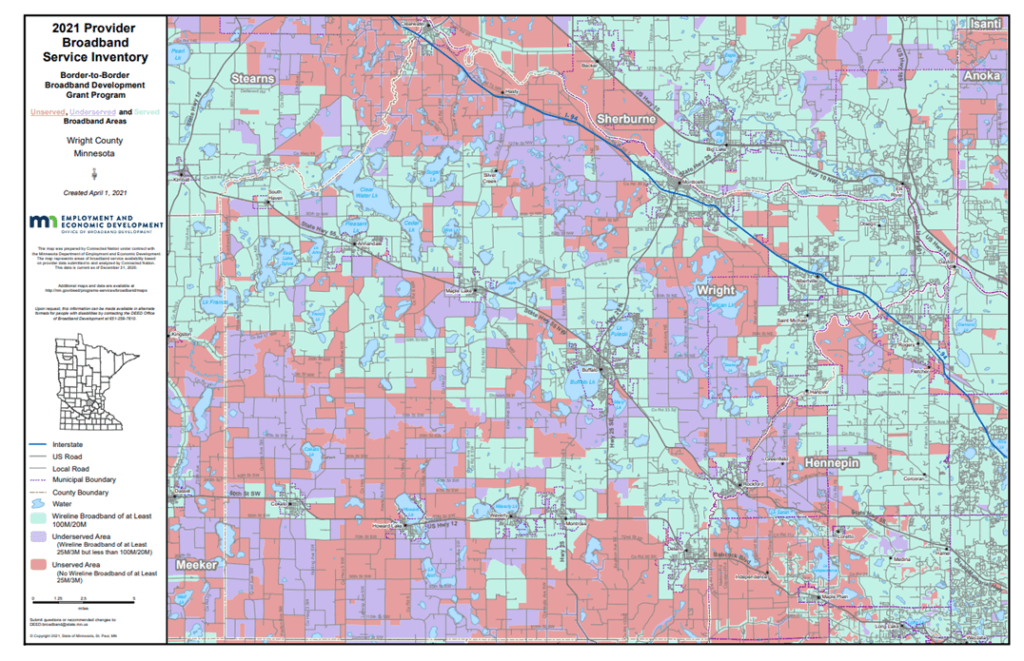 Rank: 31 (out of 87) for access to 100/20 megabits per second (Mbps)
Wright County is home to Monticello, one of the much-discussed municipal broadband networks. Monticello is well served but they county is mixed but working on it. A recent Wright County Broadband Survey revealed that 86 percent want better broadband. They have also been working to get local residents take a speed test to gauge need in the area.
A recent report from the Institute for Local Self Reliance looked at broadband in Monticello and Buffalo in Wright County. Monticello was an early municipal network that overcame many challenges but still provides services while Buffalo has been slowly expanding municipally owned fiber.
There may be opportunities for Wright to invest in better broadband. Projected allocation of American Recovery Project ARP funds in Benton is $7,930,170; broadband is one possible use.
Because Wright County is engaged, they may find a way to use the ARP funding to invest in broadband; that would help get closer to ubiquitous broadband. Wright County is a code yellow community.
Households with Device Access
Computer
92.2%
93.6%
statewide
Desktop or Laptop
83.1%
80.6%
statewide
Smartphone
4.5%
7.7%
statewide
Tablet
64.2%
63.8%
statewide
Has Worked with Blandin Foundation
Yes
Has Received MN Grant(s)
Yes
2017 – Midco (Midcontinent Communications) – Annandale East – GRANT $537,050
Meeker Coop. Light & Power Assoc. (Vibrant Broadband) – Lake Louisa/Lake Marie Project – GRANT $297,940
There is a matrix of Minnesota broadband adoption projects.
Government Districts
U.S. Congress: CD 6
MN Senate: 15, 18, 29, 30
MN House: 15B, 18A, 29A, 29B, 30A, 30B