Table of goal data by year

| Year | Rank | 100/20 Mbps |
| --- | --- | --- |
| 2021 | #28 of 87 | 87.59% |
| 2020 | #24 of 87 | 87.47% |
| 2019 | #24 of 87 | 86.43% |
| 2018 | #15 of 87 | 86.31% |
| 2017 | #17 of 87 | 81.17% |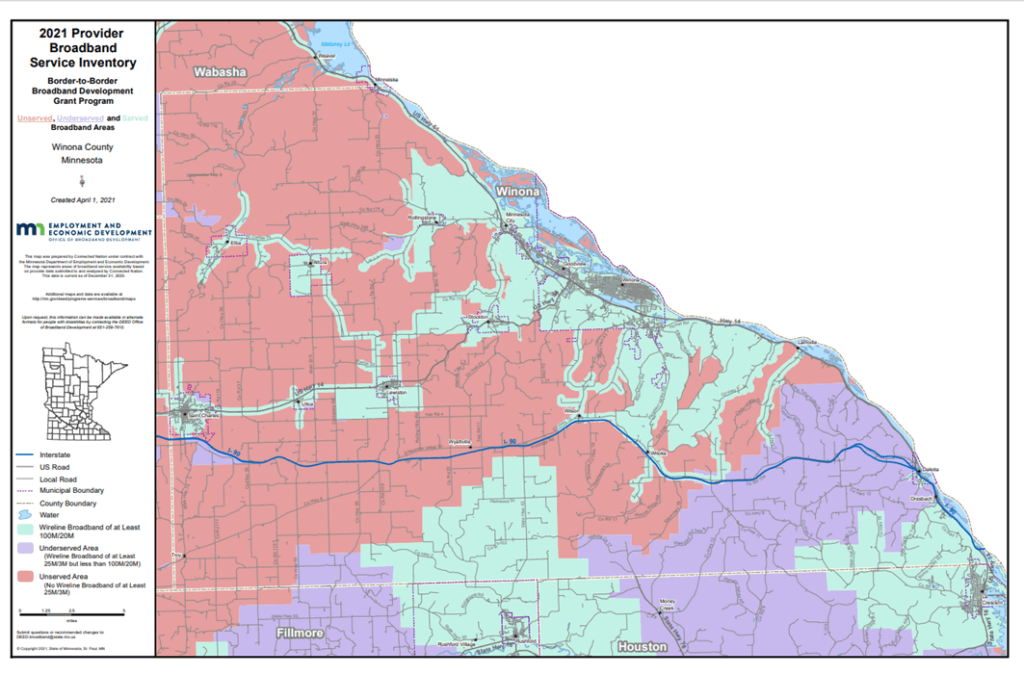 Rank: 28 (out of 87) for access to 100/20 megabits per second (Mbps)
Winona County has been focused on broadband for years; they were part of the Minnesota Intelligent Rural Communities (MIRC) starting in 2010, a Blandin-led and federal (ARRA) funded broadband adoption project.
They have benefited from past grant funded projects and will benefit from a project that received MN Border to Border funding in the last round and have opted to use CARES funding to invest in broadband.
Winona County has allotted $1 million in CARES funding to pay for rural broadband expansion projects. Dakota County has earmarked $800,000 for its broadband expansion projects.
Winona County will benefit from a MN State Grant awarded in 2021:
AcenTek – Rural Peterson Exchange FTTH – GRANT $1,492,096
This last mile project will serve 214 unserved households, 18 unserved businesses, 88 unserved farms, and two unserved community anchor institutions as well as 47 underserved households and five underserved businesses in areas of Fillmore and Winona counties.
Projected allocation of American Recovery Project ARP funds in Winona is $9,791,061; broadband is one possible use.
Winona County has the opportunity to invest in broadband with federal funding. That would help them reach ubiquitous broadband. They are a yellow code community.
Find more articles on broadband in Winona County (http://tinyurl.com/hqsckxg)
Households with Device Access
Computer
90.3%
93.6%
statewide
Desktop or Laptop
81%
80.6%
statewide
Smartphone
4.4%
7.7%
statewide
Tablet
59.3%
63.8%
statewide
Has Worked with Blandin Foundation
Yes
Has Received MN Grant(s)
Yes
2016 – WINONA COUNTY PICKWICK AREA – GRANT: $416,640
2015 – Hiawatha Broadband Communications – Winona County Whitewater Area – Grant Award: $247,000
2015 – Winona County Hiawatha Broadband Communications – Cedar Valley Area – Grant award: $314,450
2019: AcenTek – Rural Houston Exchange FTTH – GRANT $2,895,318
Government Districts
U.S. Congress: CD 7
MN Senate: 21, 28
MN House: 21B, 28A