Table of goal data by year

| Year | Rank | 100/20 Mbps |
| --- | --- | --- |
| 2021 | #82 of 87 | 49.93% |
| 2020 | #80 of 87 | 49.12% |
| 2019 | #79 of 87 | 38.68% |
| 2018 | #81 of 87 | 17.58% |
| 2017 | #83 of 87 | 2.86% |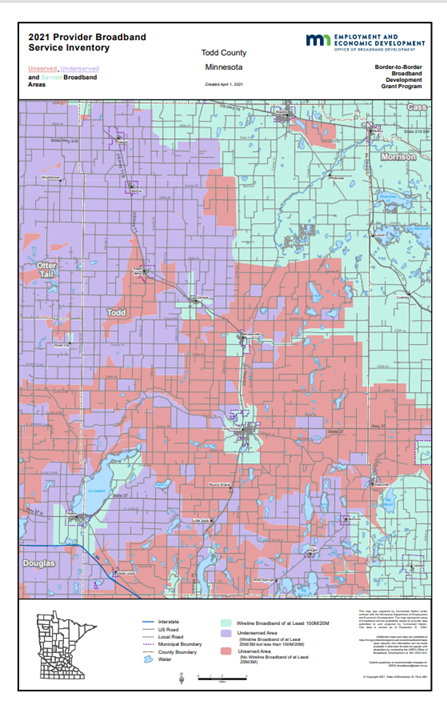 Rank: 82 (out of 87) for access to 100/20 megabits per second (Mbps)
Working with the Blandin Foundation, Todd County has been focused on better broadband for a long time. They have benefited from MN Border to Border grants. In May 2019, CTC announced plans to build out to Todd County, which is likely the cause of the increase in access to 100/20 Mbps. They work hard but they run into barriers but there are some opportunities
Todd County will benefit from a few MN State Grants awarded in 2021:
Arvig (Tekstar Communications, Inc.) – Lake Osakis, Sauk Lake & Smith Lake Project – GRANT $486,458
This middle and last mile project will upgrade approximately 230 unserved and 39 underserved locations in Todd and Douglas counties.
Sytek Communications – Morrison/Todd/Stearns County FTTP Project – GRANT $1,048,668
This last mile project will bring service to 130 locations in Southwest Morrison, Southeastern Todd and Northeastern Stearns counties.
Projected allocation of American Recovery Project ARP funds in Todd is $4,783,431; broadband is one possible use.
Todd County may benefit from intervention, such as the Blandin Accelerate program, a process to spur community acquisition and deployment of federal and state broadband funds, to find an alternative solution especially with state and federal funding on the horizon. They are a code red community.
Find more articles on broadband in Todd County (http://tinyurl.com/gl47tgq)
Households with Device Access
Computer
82.5%
93.6%
statewide
Desktop or Laptop
67.5%
80.6%
statewide
Smartphone
8.4%
7.7%
statewide
Tablet
46.8%
63.8%
statewide
Has Worked with Blandin Foundation
Yes
Has Received MN Grant(s)
Yes
2017 – WCTA (West Central Telephone Association) – Northern Todd County – GRANT $902,695
2014 – Arvig (Mainstreet Communications LLC), Sauk Lake area $
2019: WCTA (West Central Telephone Association) – Rural Staples Phase I Project – GRANT $555,355
Government Districts
U.S. Congress: CD 7
MN Senate: 09
MN House: 09A, 09B