Table of goal data by year

| Year | Rank | 100/20 Mbps |
| --- | --- | --- |
| 2021 | #36 of 87 | 84.71% |
| 2020 | #34 of 87 | 82.41% |
| 2019 | #32 of 87 | 81.07% |
| 2018 | #64 of 87 | 40.17% |
| 2017 | #58 of 87 | 38.01% |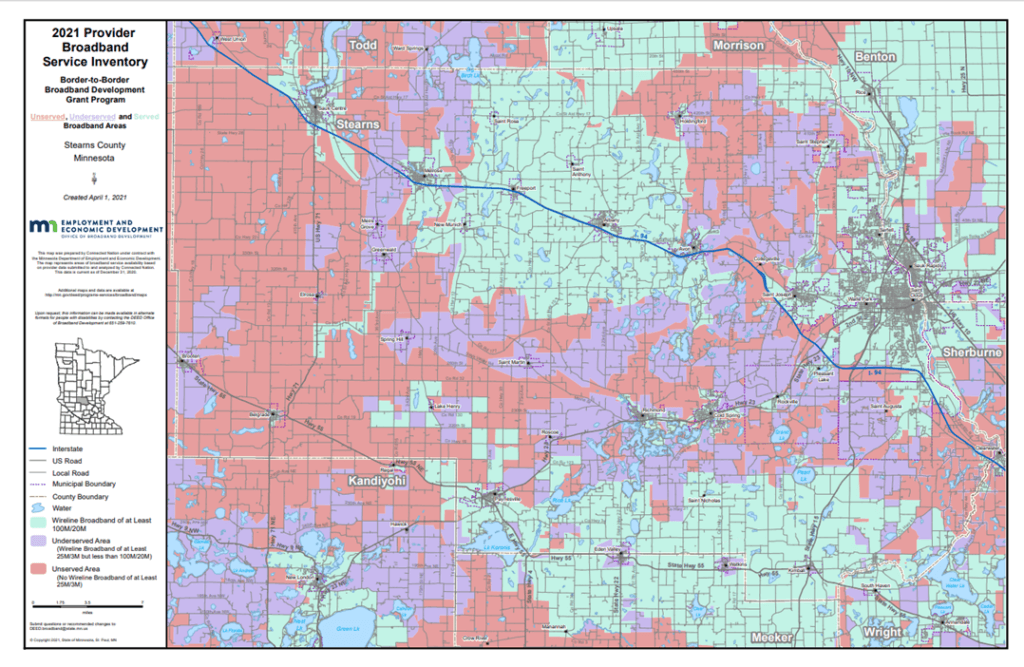 Rank: 36 (out of 87) for access to 100/20 megabits per second (Mbps)
Stearns County saw a leap in access in 2019. They have had very incremental improvement each year since. But there is some opportunity for change.
Stearns County will benefit from a MN State Grant awarded in 2021:
Sytek Communications – Morrison/Todd/Stearns County FTTP Project – GRANT $1,048,668
This last mile project will bring service to 130 locations in Southwest Morrison, Southeastern Todd and Northeastern Stearns counties.
Projected allocation of American Recovery Project ARP funds in Stearns is $31,239,504; broadband is one possible use.
Stearns County has the opportunity to invest in broadband with federal funding. That would help them reach ubiquitous broadband. The recent grant and consistent improvement supports their yellow code.
Find more articles on broadband in Stearns County (http://tinyurl.com/z463nan)
Households with Device Access
Computer
91.3%
93.6%
statewide
Desktop or Laptop
78.8%
80.6%
statewide
Smartphone
6.9%
7.7%
statewide
Tablet
59.2%
63.8%
statewide
Has Worked with Blandin Foundation
Yes
Has Received MN Grant(s)
Yes
2017 – Albany Mutual Telephone Association – Two Rivers Area – GRANT $616,743
2016 – ALBANY MUTUAL TELEPHONE ASSOCIATION BIG WATAB LAKE – GRANT: $726,185
Arvig (Melrose Telephone Company) – Eden Valley & Melrose Area Project – GRANT $393,890
Government Districts
U.S. Congress: CD 6
MN Senate: 12, 13, 14
MN House: 12B, 13A, 13B, 14A, 14B