Table of goal data by year

| Year | Rank | 100/20 Mbps |
| --- | --- | --- |
| 2021 | #23 of 87 | 90.69% |
| 2020 | #50 of 87 | 73.66% |
| 2019 | #50 of 87 | 72.36% |
| 2018 | #36 of 87 | 67.11% |
| 2017 | #67 of 87 | 28.02% |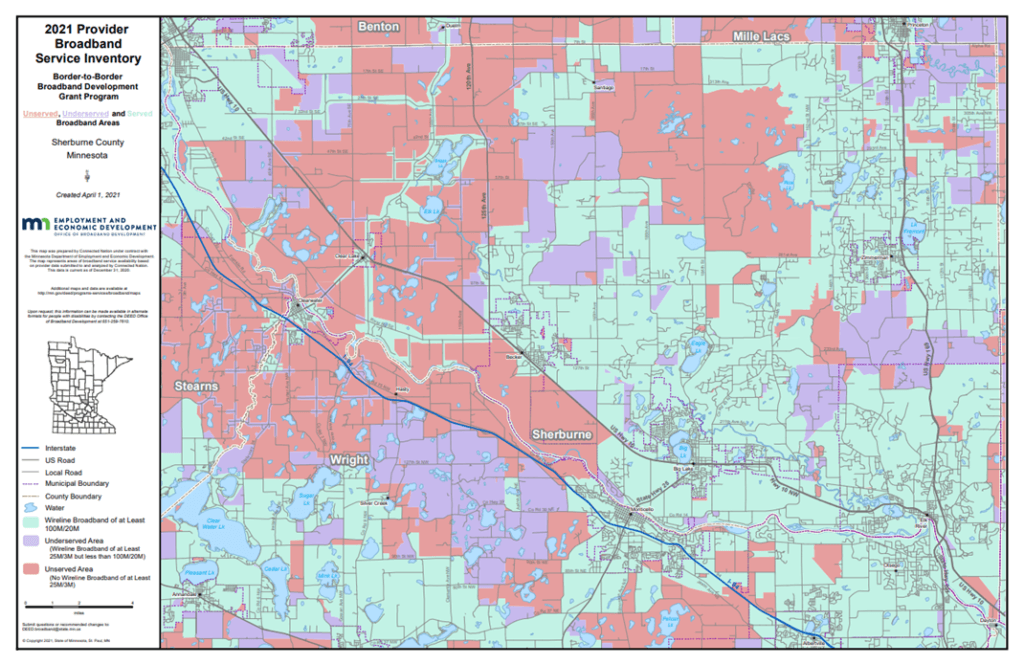 Rank: 23 (out of 87) for access to 100/20 megabits per second (Mbps)
Sherburn County has worked with the Blandin Foundation. They renewed their interest in broadband access in the last two years, certainly during the pandemic shut down. After being stagnant for a few years, they saw a leap of better broadband in the last year.
Projected allocation of American Recovery Project ARP funds in Sherburne is $18,858,711; broadband is one possible use.
Sherburne County has the opportunity to invest in broadband with federal funding. That would help them reach ubiquitous broadband and their renewed focus might make this the perfect time to do it. They are a code green community.
Find more articles on broadband in Sibley County(http://tinyurl.com/ztm6c9n)
Households with Device Access
Computer
94.4%
93.6%
statewide
Desktop or Laptop
85.1%
80.6%
statewide
Smartphone
4.7%
7.7%
statewide
Tablet
65.5%
63.8%
statewide
Has Worked with Blandin Foundation
Yes
Has Received MN Grant(s)
Yes
2017 – Palmer Wireless – Sherburne County Road 3 – GRANT $110,661
2016 – PALMER WIRELESS BIG LAKE INDUSTRIAL PARK – GRANT: $ 90,988
2016 – PALMER WIRELESS DEL TONE ROAD AND ST. CLOUD AIRPORT – GRANT: $ 179,400
2014 – Palmer Wireless, Becker Industrial Park – Award: $151,934.
Government Districts
U.S. Congress: CD 6
MN Senate: 14, 15, 30, 31
MN House: 14B, 15A, 15B, 30A, 31A