Table of goal data by year

| Year | Rank | 100/20 Mbps |
| --- | --- | --- |
| 2021 | #34 of 87 | 85.23% |
| 2020 | #39 of 87 | 79.41% |
| 2019 | #49 of 87 | 72.59% |
| 2018 | #35 of 87 | 67.3% |
| 2017 | #85 of 87 | 0% |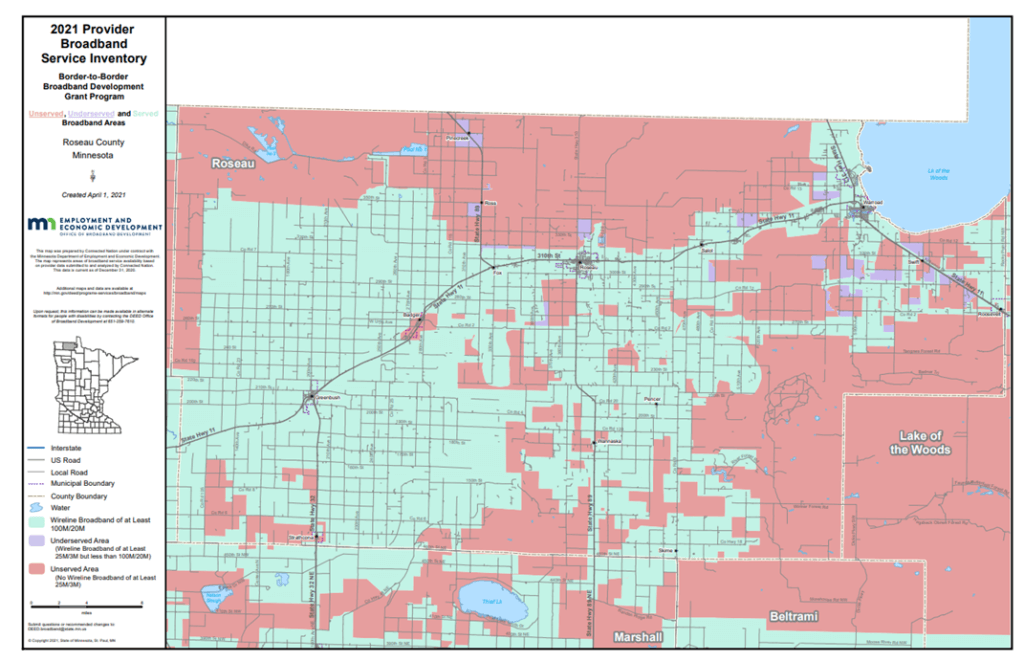 Rank: 34 (out of 87) for access to 100/20 megabits per second (Mbps)
Roseau County saw an amazing leap in broadband in 2018 – from 0 to 67 percent. They have seen incremental growth since then.
Projected allocation of American Recovery Project ARP funds in Roseau is $2,941,158; broadband is one possible use.
Roseau County has the opportunity to invest in broadband with federal funding. That would help them reach ubiquitous broadband. They are code yellow.
Households with Device Access
Computer
87.9%
93.6%
statewide
Desktop or Laptop
73.2%
80.6%
statewide
Smartphone
9%
7.7%
statewide
Tablet
50.6%
63.8%
statewide
Has Worked with Blandin Foundation
No
Has Received MN Grant(s)
Yes
2017 – Wikstrom Telephone – Wiktel NW MN Broadband – GRANT $1,307,785
2016 – SJOBERG'S INC. ROSEAU AND LAKE OF THE WOODS COUNTIES — GRANT: $354,740
2016 – CENTURYLINK THIEF RIVER MIDDLE MILE – GRANT: $1,324,400
2016 – WIKSTROM TELEPHONE COMPANY WIKTEL NW MN – GRANT: $950,823
2014 – Sjoberg Cable, Broadband Grant Proposal – Award $261,575
2014 – Wikstrom Telephone, Kittson, Marshall, Roseau Broadband Extension Amount $425,000
2019: Wikstrom Telephone – Wiktel NW MN Broadband Project – GRANT $1,151,526
Government Districts
U.S. Congress: CD 7
MN Senate: 01
MN House: 01A