Table of goal data by year

| Year | Rank | 100/20 Mbps |
| --- | --- | --- |
| 2021 | #63 of 87 | 70.86% |
| 2020 | #66 of 87 | 63.23% |
| 2019 | #62 of 87 | 59.06% |
| 2018 | #50 of 87 | 51.78% |
| 2017 | #42 of 87 | 50.43% |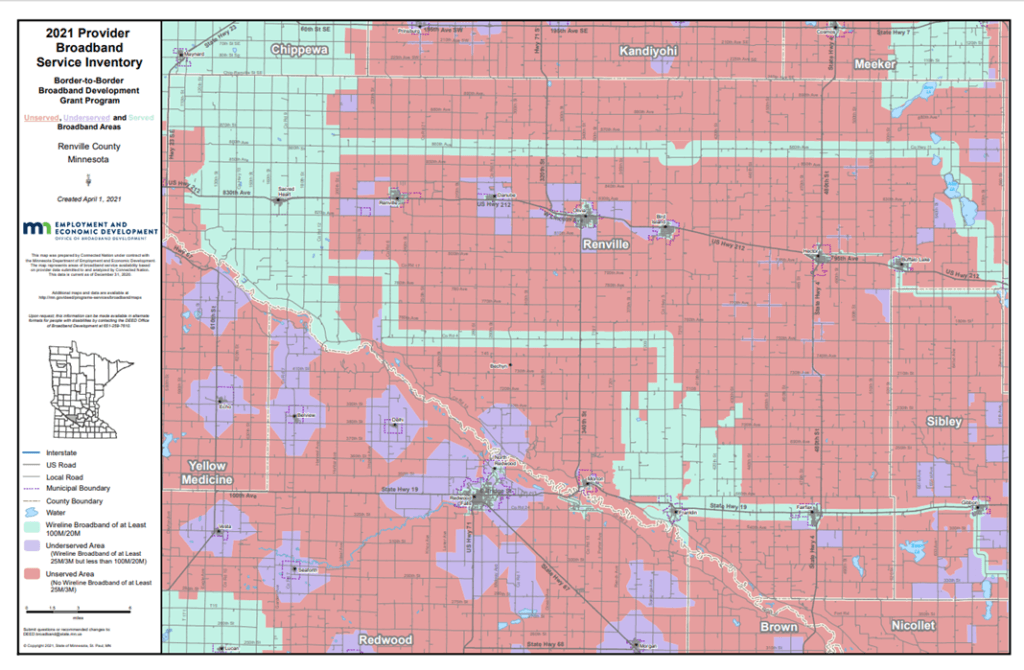 Rank: 65 (out of 87) for access to 100/20 megabits per second (Mbps)
Renville County has been working on better broadband for more than 10 years. They are a part of the original RS Fiber team. Border to Border grants have helped support incremental improvement. They received an award in the last round.
Renville County will benefit from a MN State Grant awarded in 2021:
Minnesota Valley Telephone Company (MVTC) – Rural Franklin Fiber Project – GRANT $226,800
This middle and last mile project will serve approximately 45 unserved locations in the City of Franklin and the townships of Sherman, Eden, Camp and Birch Cooley in Redwood, Renville and Brown counties.
Projected allocation of American Recovery Project ARP funds in Renville is $2,821,495; broadband is one possible use.
Renville County has the opportunity to invest in broadband with federal funding. That would help them reach ubiquitous broadband. They just need to show the determination they had when RS Fiber was formed. They are a code yellow community.
Find more articles on broadband in Renville County (http://tinyurl.com/hfazdvf)
Households with Device Access
Computer
85.3%
93.6%
statewide
Desktop or Laptop
71.5%
80.6%
statewide
Smartphone
8%
7.7%
statewide
Tablet
49.9%
63.8%
statewide
Has Worked with Blandin Foundation
Yes
RS Fiber has worked with the Blandin Foundation.
Has Received MN Grant(s)
Yes
2016 – RENVILLE COUNTY HBC & RS FIBER – GRANT: $807,966
2015 – MVTV Wireless Middle Mile – Grant award: $808,080
2014 – R-S Fiber Cooperative, FTTH Project – Award: $1 million.
2019: Nuvera Communications, Inc. – Hutchinson W Project – GRANT $346,282
2019: Midco (Midcontinent Communications) – Renville Project – GRANT $230,835
Government Districts
U.S. Congress: CD 7
MN Senate: 16, 17
MN House: 16B, 17A