Table of goal data by year

| Year | Rank | 100/20 Mbps |
| --- | --- | --- |
| 2021 | #18 of 87 | 93.85% |
| 2020 | #30 of 87 | 83.18% |
| 2019 | #26 of 87 | 83.17% |
| 2018 | #18 of 87 | 83.17% |
| 2017 | #46 of 87 | 48.01% |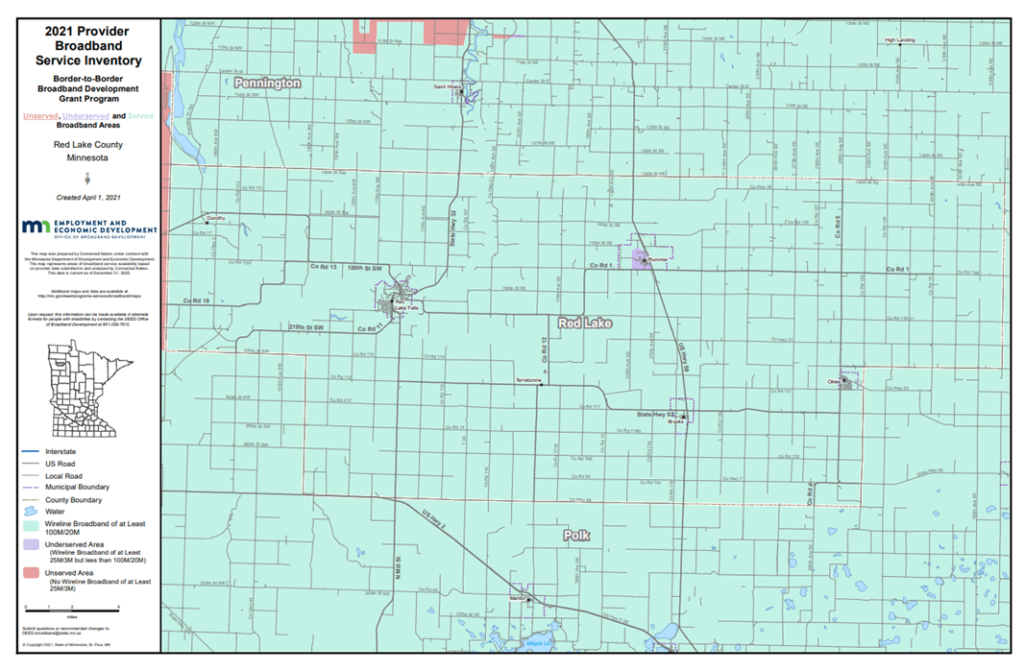 Rank: 18 (out of 87) for access to 100/20 megabits per second (Mbps)
Red Lake County has nearly ubiquitous access to 25/3 Mbps, which means they didn't need to think about broadband for a while. But they also just saw an increase from 83 to 93 percent access to 100/20 Mbps. They have never received a state broadband grant. They have service providers that are engaged with providing service with minimal community support.
Projected allocation of American Recovery Project ARP funds in Red Lake is $786,442; broadband is one possible use.
They are in an enviable position with their providers but they are also in a position to use their ARP funding to invite providers to do more. They are code green.
Past grant: none
Find more articles on broadband in Red Lake County (http://tinyurl.com/gt8g24c)
Households with Device Access
Computer
84.9%
93.6%
statewide
Desktop or Laptop
69.3%
80.6%
statewide
Smartphone
5.8%
7.7%
statewide
Tablet
58.9%
63.8%
statewide
Has Worked with Blandin Foundation
No
Has Received MN Grant(s)
No
Government Districts
U.S. Congress: CD 7
MN Senate: 01
MN House: 01B