Table of goal data by year

| Year | Rank | 100/20 Mbps |
| --- | --- | --- |
| 2021 | #54 of 87 | 74.48% |
| 2020 | #52 of 87 | 73% |
| 2019 | #54 of 87 | 68.92% |
| 2018 | #78 of 87 | 23.67% |
| 2017 | #70 of 87 | 24.33% |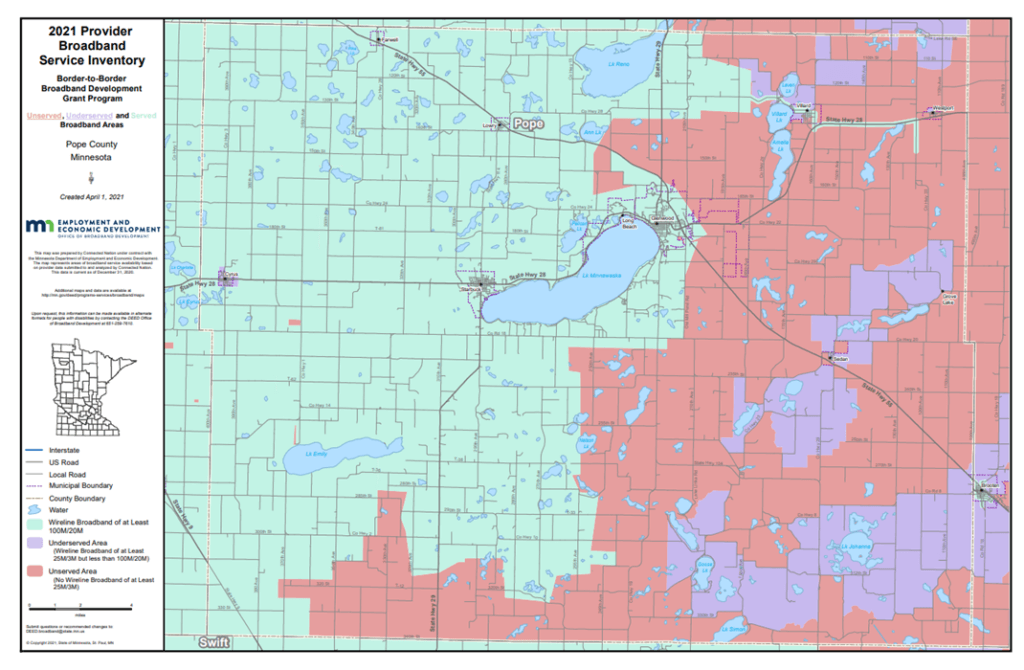 Rank: 54 (out of 87) for access to 100/20 megabits per second (Mbps)
In 2017, Pope County unveiled a feasibility study that found that installing fiber everywhere in the county would cost about $29.3 million.  Last year, policymakers have publicly recognized the need for improved broadband, especially during COVID. So broadband is part of the community conversation.
Projected allocation of American Recovery Project ARP funds in Pope is $2,181,674; broadband is one possible use.
Pope County has the opportunity to invest in broadband with federal funding. That would help them reach ubiquitous broadband. They are a code red community.
Find more articles on broadband in Pope County (http://tinyurl.com/hx7q9fd)
Households with Device Access
Computer
86.4%
93.6%
statewide
Desktop or Laptop
75.3%
80.6%
statewide
Smartphone
5.9%
7.7%
statewide
Tablet
57.3%
63.8%
statewide
Has Worked with Blandin Foundation
Yes
Has Received MN Grant(s)
Yes
2017 – Hanson Communications – Minnewaska Area FTTP – GRANT $4,996,791
Government Districts
U.S. Congress: CD 7
MN Senate: 12
MN House: 12A, 12B