Table of goal data by year

| Year | Rank | 100/20 Mbps |
| --- | --- | --- |
| 2021 | #86 of 87 | 39.89% |
| 2020 | #85 of 87 | 39.13% |
| 2019 | #81 of 87 | 37.26% |
| 2018 | #68 of 87 | 38.18% |
| 2017 | #59 of 87 | 37.37% |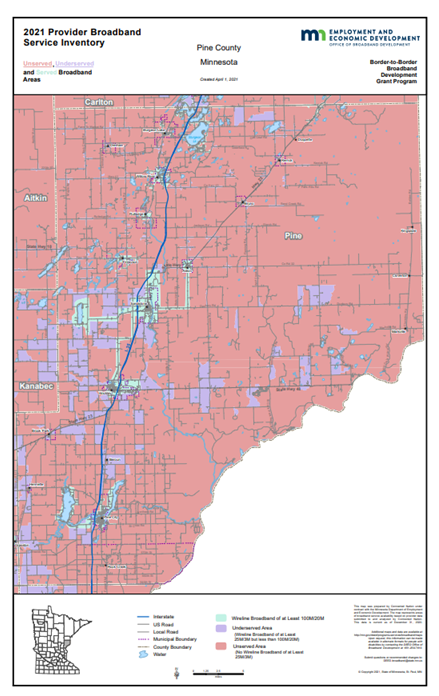 Rank: 86 (out of 87) for access to 100/20 megabits per second (Mbps)
Pine County has been actively seeking better broadband for years; they were part of a Blandin Broadband Communities cohort a few years ago. Unfortunately, much of Pine County is served by one large national provider. That may be a bottleneck to better access in those areas, because as we noted last year, lack of competition can impact the drive for improvement.
Moose Lake Gazette and MPR took a look at broadband life in Pine County. AT&T deployed a FirstNet tower in Pine County.
Projected allocation of American Recovery Project ARP funds in Pine is $5,736,665; broadband is one possible use.
They were a cohort in Blandin's inaugural Accelerate! program, a process to spur community acquisition and deployment of federal and state broadband funds. Also, they got Blandin funding in August to do a feasibility study, which is often a solid step to getting better broadband. I think the projects with Blandin will help them invest ARP in broadband.
They are still code red, but that represents their barriers more than their hard work and perseverance.
Find more articles on broadband in Pine County (http://tinyurl.com/ha8burg)
Households with Device Access
Computer
84.7%
93.6%
statewide
Desktop or Laptop
71.2%
80.6%
statewide
Smartphone
8.2%
7.7%
statewide
Tablet
51.2%
63.8%
statewide
Has Worked with Blandin Foundation
Yes
Has Received MN Grant(s)
Yes
2017 – SCI (Savage Communications Inc.) — Dell Grove Township Broadband Expansion – GRANT $118,248
Government Districts
U.S. Congress: CD 8
MN Senate: 11
MN House: 11A, 11B