Table of goal data by year

| Year | Rank | 100/20 Mbps |
| --- | --- | --- |
| 2021 | #10 of 87 | 98.19% |
| 2020 | #10 of 87 | 96.95% |
| 2019 | #11 of 87 | 96.18% |
| 2018 | #12 of 87 | 90.75% |
| 2017 | #77 of 87 | 9.63% |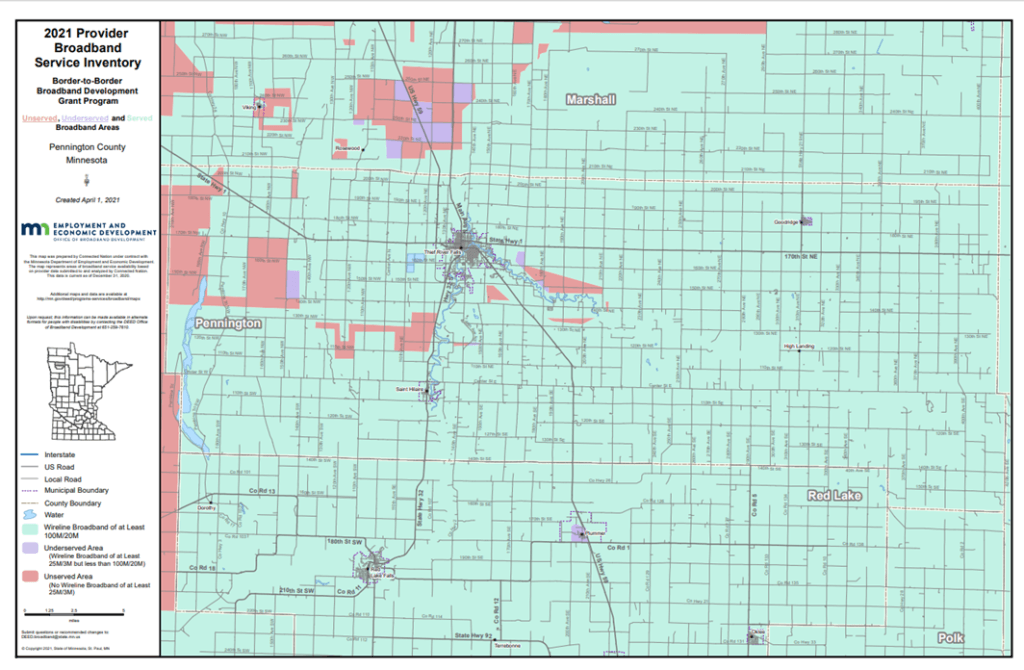 Rank: 10 (out of 87) for access to 100/20 megabits per second (Mbps)
Pennington County has done well with engaged providers and successful Border to Border grants.
Projected allocation of American Recovery Project ARP funds in Pennington is $2,738,293; broadband is one possible use.
Pennington County has the opportunity to invest in broadband with federal funding. That would help them reach ubiquitous broadband. They are so close; it might not take much. They are code green.
Find more articles on Pennington County https://blandinonbroadband.org/?s=pennington&submit=Search
Households with Device Access
Computer
88.1%
93.6%
statewide
Desktop or Laptop
76.4%
80.6%
statewide
Smartphone
5.4%
7.7%
statewide
Tablet
51.7%
63.8%
statewide
Has Worked with Blandin Foundation
Yes
Has Received MN Grant(s)
Yes
2017 – Sjoberg's Inc. – NW MN Rural Broadband – GRANT $307,088
2016 – CENTURYLINK THIEF RIVER MIDDLE MILE – GRANT: $1,324,400
2016 – GARDEN VALLEY TELEPHONE COMPANY RURAL THIEF RIVER FALLS EAST – GRANT: $2,027,035
2019: Wikstrom Telephone – Wiktel NW MN Broadband Project – GRANT $1,151,526
There is a matrix of Minnesota broadband adoption projects.
Government Districts
U.S. Congress: CD 7
MN Senate: 01
MN House: 01A, 01B