Table of goal data by year

| Year | Rank | 100/20 Mbps |
| --- | --- | --- |
| 2021 | #39 of 87 | 81.24% |
| 2020 | #35 of 87 | 81.24% |
| 2019 | #41 of 87 | 77.66% |
| 2018 | #24 of 87 | 77.18% |
| 2017 | #35 of 87 | 59.25% |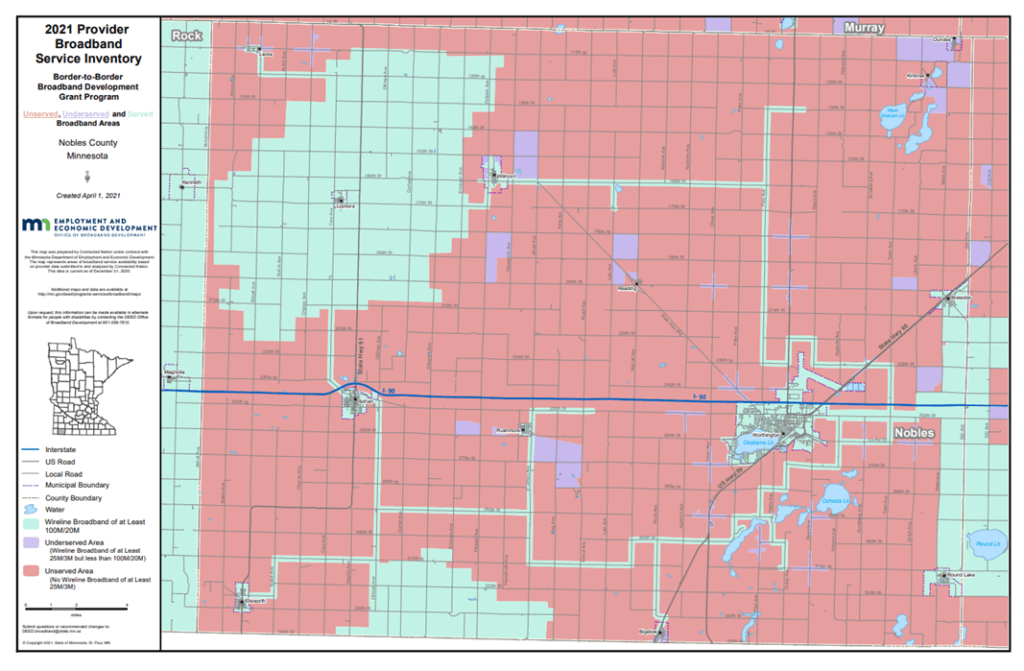 Rank: 39 (out of 87) for access to 100/20 megabits per second (Mbps)
Nobles County was a Blandin Broadband Community (BBC); they have deployed lots of broadband adoption programs. They have benefited from past MN Border to Border grants.
They have pretty good coverage But they have been hung up at 81 percent since 2019.
Projected allocation of American Recovery Project ARP funds in Nobles is $4,194,811; broadband is one possible use.
Nobles County has the opportunity to invest in broadband with federal funding. That would help them reach ubiquitous broadband. Their history with the Blandin Foundation might help them prioritize broadband. They are a code yellow community.
Find more articles on broadband in Nobles County (http://tinyurl.com/j52xvxu)
Households with Device Access
Computer
87.5%
93.6%
statewide
Desktop or Laptop
69.4%
80.6%
statewide
Smartphone
8.8%
7.7%
statewide
Tablet
54.2%
63.8%
statewide
Has Received MN Grant(s)
Yes
2016 LISMORE COOPERATIVE TELEPHONE NOBLES COUNTY BROADBAND – GRANT: $2,944,578
2015 – MVTV Wireless Middle Mile – Grant award: $808,080
Government Districts
U.S. Congress: CD 1
MN Senate: 22
MN House: 22A, 22B