Table of goal data by year

| Year | Rank | 100/20 Mbps |
| --- | --- | --- |
| 2021 | #46 of 87 | 77.31% |
| 2020 | #54 of 87 | 71.6% |
| 2019 | #66 of 87 | 53.08% |
| 2018 | #54 of 87 | 48.2% |
| 2017 | #78 of 87 | 9.2% |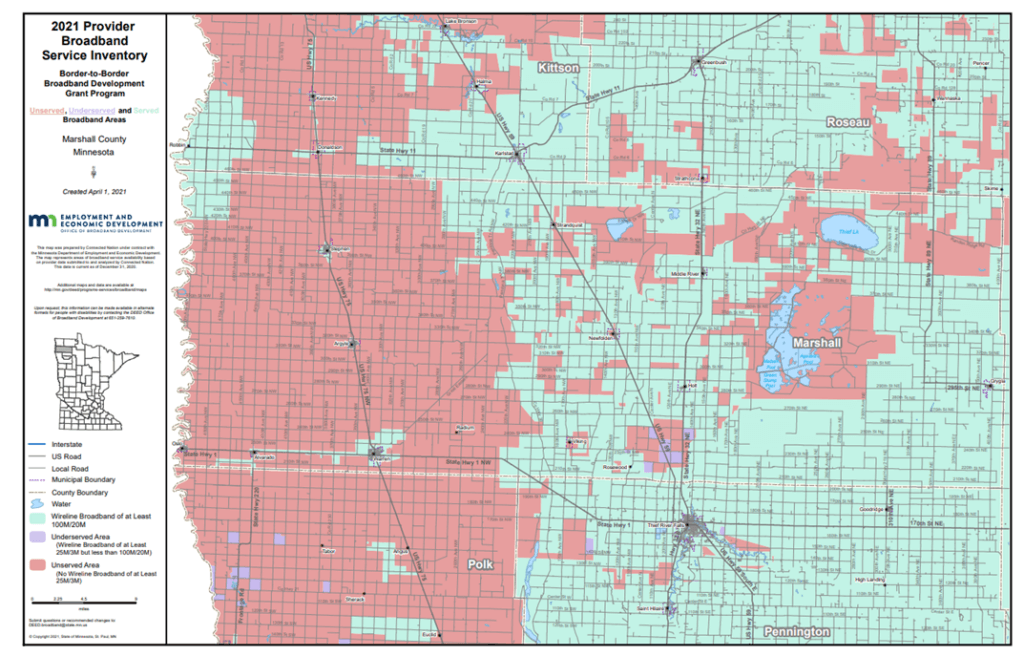 Rank: 46 (out of 87) for access to 100/20 megabits per second (Mbps)
Marshall County has seen consistent, incremental improvements in broadband coverage, and they have benefited grants almost every year grants were available. That trend has continued this year.
County will benefit from a  MN State Grant awarded in 2021:
Garden Valley Technologies – Northwest Thief River Falls and Euclid – GRANT $1,640,722
This middle and last mile project will serve 104 unserved and 22 underserved locations in portions of Marshall and Polk counties.
Projected allocation of American Recovery Project ARP funds in Benton is $7,930,170; broadband is one possible use.
Marshall has engaged providers. They have a history of consistent improvement. If they have an opportunity to invest federal funding into broadband; they are code yellow.
Find more articles on broadband in Marshall County (http://tinyurl.com/zamfwj3)
Households with Device Access
Computer
87.2%
93.6%
statewide
Desktop or Laptop
72.7%
80.6%
statewide
Smartphone
8.7%
7.7%
statewide
Tablet
43.1%
63.8%
statewide
Has Worked with Blandin Foundation
No
Has Received MN Grant(s)
Yes
2017 – Wikstrom Telephone – Wiktel NW MN Broadband – GRANT $1,307,785
2016 – GARDEN VALLEY TELEPHONE COMPANY RURAL THIEF RIVER FALLS EAST – GRANT: $2,027,035
2016 – WIKSTROM TELEPHONE COMPANY (WITH BEAMCO, INC.) RURAL ALVARADO – GRANT: $43,481
2016 – WIKSTROM TELEPHONE COMPANY WIKTEL NW MN – GRANT: $950,823
2014 – Wikstrom Telephone, Kittson, Marshall, Roseau Broadband Extension – Award $425,000
Wikstrom Telephone – Wiktel NW MN Broadband Project – GRANT $1,151,526
There is a matrix of Minnesota broadband adoption projects.
Government Districts
U.S. Congress: CD 7
MN Senate: 01
MN House: 01A