Table of goal data by year

| Year | Rank | 100/20 Mbps |
| --- | --- | --- |
| 2021 | #38 of 87 | 82.31% |
| 2020 | #37 of 87 | 79.92% |
| 2019 | #30 of 87 | 81.89% |
| 2018 | #29 of 87 | 72.77% |
| 2017 | #86 of 87 | 0% |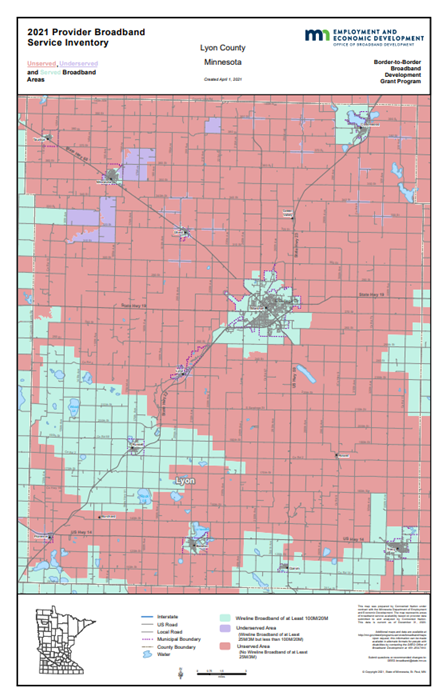 Rank: 38 (out of 87) for access to 100/20 megabits per second (Mbps)
In 2017, Lyon County went from zero to more than 70 percent broadband coverage at speeds of 100/20 Mbps. A feasibility study in 2018 indicated that it was too expensive to build Fiber to the Home (FTTH) even with the help of a Border to Border grant.
But they have seen an incremental increase in the last year and a recent state broadband grant sets them up for more.
Lyon County will benefit from a MN State Grant awarded in 2021:
Woodstock Telephone Company – Lynd FTTP – GRANT $325,548 (Lyon County)
This middle and last mile project will serve 203 underserved households, three underserved businesses and three underserved anchor institutions in the City of Lynd in Lyon County.
Projected allocation of American Recovery Project ARP funds in Lyon is $4,940,525; broadband is one possible use. Allocating some of those funds would help; there's no indication one way or another for that happening therefore they remain a code red community.
Find more articles on broadband in Lyon County (http://tinyurl.com/hzlzzvs)
Households with Device Access
Computer
91.5%
93.6%
statewide
Desktop or Laptop
80%
80.6%
statewide
Smartphone
6%
7.7%
statewide
Tablet
58.7%
63.8%
statewide
Has Worked with Blandin Foundation
Yes
Has Received MN Grant(s)
Yes
2017 – MVTC (Minnesota Valley Telephone Company, Inc.) – Milroy Broadband Project – GRANT $742,365
2017 – Woodstock Telephone Company – Balaton FTTP – GRANT $413,009
2016 – MIDCO CANBY TO MARSHALL MIDDLE MILE AND LAST MILE – GRANT AMOUNT: $623,000
2015 – MVTV Wireless Middle Mile – Grant award: $808,080
Government Districts
U.S. Congress: CD 7
MN Senate: 16, 22
MN House: 16A, 22A