Table of goal data by year

| Year | Rank | 100/20 Mbps |
| --- | --- | --- |
| 2021 | #49 of 87 | 76% |
| 2020 | #55 of 87 | 70.67% |
| 2019 | #52 of 87 | 70.33% |
| 2018 | #31 of 87 | 70.65% |
| 2017 | #16 of 87 | 82.78% |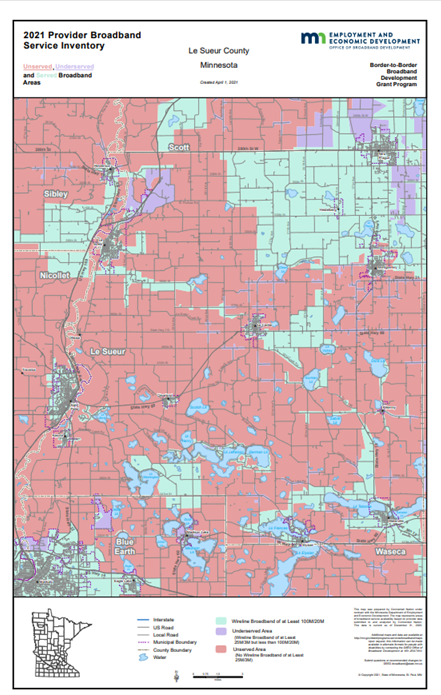 Rank: 55 (out of 87) for access to 100/20 megabits per second (Mbps)
Le Sueur started focusing on broadband in earnest in 2018. They started with a community event. Then they started working with the Blandin Foundation. In 2020, they became a Blandin Broadband Community.
They worked hard on promoting broadband use, getting good mapping in their community and getting a partner to apply for a State Broadband grant. Excitement was high until news came out with federal RDOF awards. LTD Broadband was awarded the opportunity to submit a long form to get federal funding to deploy FTTH throughout much of Minnesota, including parts of Le Sueur County.
The potential Rural Digital Opportunity Fund (RDOF) funding meant Le Sueur's state grant application was no longer eligible. The folks in Le Sueur are frustrated. Many communities feel like they are in limbo and it doesn't help that LTD has applied to deploy fiber but their experience is wireless.
They are in a limbo but they are not stuck. They were able to quickly turn around CARES Act funding to improve broadband. And they continue to work on learning more about working with and/or around LTD. Projected allocation of American Recovery Project ARP funds in Le Sueur is $5,602,456; broadband is one possible use. And they are poised to consider that, as their CARES investment indicates.
Le Sueur is featured in a report from the Institute for Local Self Reliance. They are experiencing barriers but they are persistent. They are a code yellow but that would upgrade to green quickly depending on what happens with RDOF.
Find more articles on broadband in Le Sueur County (http://tinyurl.com/jbg7ghy)
Households with Device Access
Computer
90.3%
93.6%
statewide
Desktop or Laptop
76.5%
80.6%
statewide
Smartphone
7%
7.7%
statewide
Tablet
58.6%
63.8%
statewide
Has Worked with Blandin Foundation
Yes
Has Received MN Grant(s)
Yes
2016 – ECKLES TELEPHONE COMPANY (DBA BEVCOMM) RURAL HEIDELBERG– GRANT:  $188,000
BEVCOMM (Eckles Telephone Company) – Le Sueur County Project – GRANT $1,857,376
Government Districts
U.S. Congress: CD 1
MN Senate: 19, 20, 23
MN House: 19A, 20A, 20B, 23B