Table of goal data by year

| Year | Rank | 100/20 Mbps |
| --- | --- | --- |
| 2021 | #55 of 87 | 74.31% |
| 2020 | #73 of 87 | 54.66% |
| 2019 | #65 of 87 | 53.93% |
| 2018 | #52 of 87 | 50.47% |
| 2017 | #87 of 87 | 0% |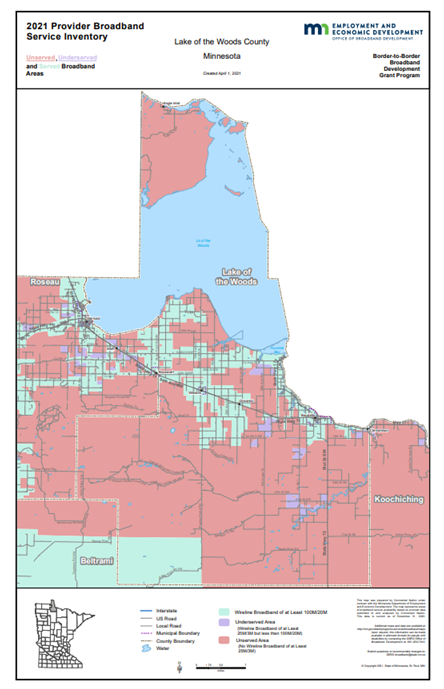 Rank: 55 (out of 87) for access to 100/20 megabits per second (Mbps)
Lake of the Woods has been working on broadband for several years. They have received Border to Border grants. They were a Blandin Broadband Community. In 2019, Wikstrom Telephone received a Border to Border award and it seems like that is making a difference. Their percentage covered increased by 20 percent this year.
Projected allocation of American Recovery Project ARP funds in Lake of the Woods is $725,350; broadband is one possible use. That may help. Perhaps they could build on the momentum and use that money to invest in better broadband.
Due to their recent increase and the opportunity to invest, Lake of the Woods is not a code yellow community.
Find more articles on broadband in Lake of the Woods County (http://tinyurl.com/gpfu7dd)
Households with Device Access
Computer
82.7%
93.6%
statewide
Desktop or Laptop
76%
80.6%
statewide
Smartphone
5.6%
7.7%
statewide
Tablet
54.9%
63.8%
statewide
Has Worked with Blandin Foundation
Yes
Has Received MN Grant(s)
Yes
2016 – SJOBERG'S INC. ROSEAU AND LAKE OF THE WOODS COUNTIES — GRANT: $354,740
2016 – WIKSTROM TELEPHONE COMPANY WIKTEL NW MN – GRANT: $950,823
2019: Wikstrom Telephone – Wiktel NW MN Broadband Project – GRANT $1,151,526
Government Districts
U.S. Congress: CD 7
MN Senate: 02
MN House: 02A