Table of goal data by year

| Year | Rank | 100/20 Mbps |
| --- | --- | --- |
| 2021 | #19 of 87 | 93.32% |
| 2020 | #15 of 87 | 93.39% |
| 2019 | #14 of 87 | 93.4% |
| 2018 | #11 of 87 | 94.3% |
| 2017 | #13 of 87 | 94.32% |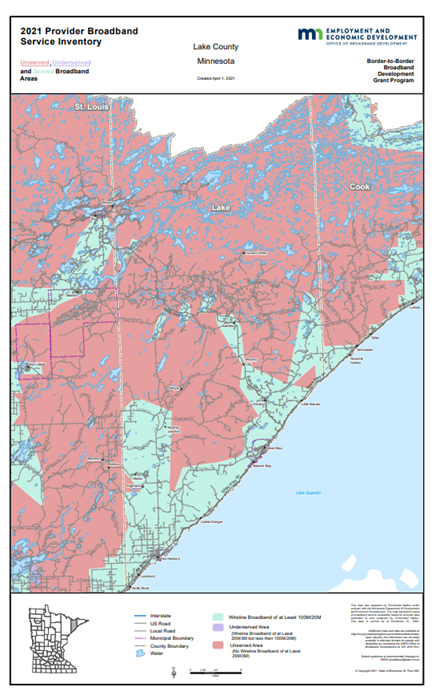 Rank: 19 (out of 87) for access to 100/20 megabits per second (Mbps)
Lake County received an American Recovery and Reinvestment Act (ARRA) award in 2010 to build Fiber to the Home (FTTH). That grant came with a lot of bumps in the road, but now more than 90 percent of the very remote county has access to 100/20 Mbps broadband. It started as a public network; it's now privately owned but people are well served.
The full Lake County story if feature in a report from the Institute for Local Self Reliance. It is a David versus Goliath tale. The report points out that educating the community helped build support and make the network happen. Lake County was a Minnesota Intelligent Rural Community (MIRC) participant through the Blandin Foundation, a program that promoted better broadband use; that helped build momentum.
Lake County needs a push to get to ubiquitous broadband. Projected allocation of American Recovery Project ARP funds in Lake is $2,063,756; broadband is one possible use. That could help. Cable and wireless provider Zito Media is deploying near Fall Lake Township. Maybe they will extend or that will build momentum. Because of their action, Lake County remains a code green.
In 2010, Lake County received an ARRA award of $66.3 million to improve broadband access in their area; about $10 million of the award was an outright grant; the rest was a low-interest loan. There were bumps along the road to getting fiber to the community but now they are well served.
Find more articles on broadband in Lake County (http://tinyurl.com/j7pu3le)
Households with Device Access
Computer
89.1%
93.6%
statewide
Desktop or Laptop
75.3%
80.6%
statewide
Smartphone
8.4%
7.7%
statewide
Tablet
56.8%
63.8%
statewide
Has Received MN Grant(s)
No
Government Districts
U.S. Congress: CD 8
MN Senate: 03
MN House: 03A