Table of goal data by year

| Year | Rank | 100/20 Mbps |
| --- | --- | --- |
| 2021 | #65 of 87 | 68.84% |
| 2020 | #59 of 87 | 68.84% |
| 2019 | #55 of 87 | 68.84% |
| 2018 | #33 of 87 | 68.79% |
| 2017 | #26 of 87 | 68.9% |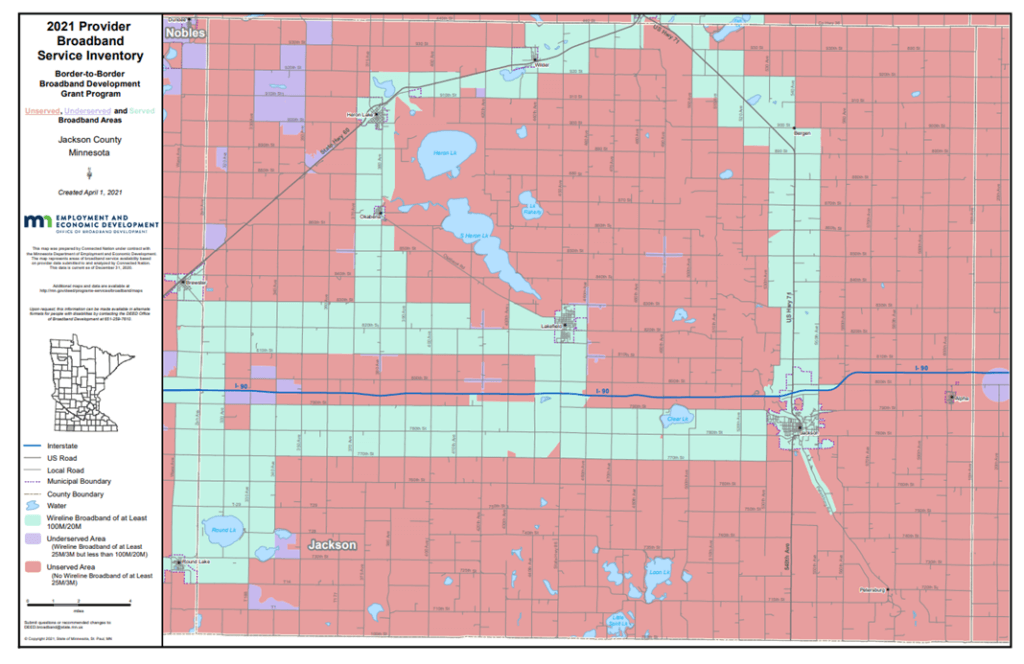 Rank: 58 (out of 87) for access to 100/20 megabits per second (Mbps)
Jackson County has been stalled for as long as we've been tracking. They benefited from an American Recovery and Reinvestment Act (ARRA) grant in 2010. They benefited from a Border to Border grant in 2015.
Projected allocation of American Recovery Project ARP funds in Jackson is $1,909,571; broadband is one possible use.
Jackson may see an influx of funding in the future. This could jumpstart them back into being broadband leaders. For now, however, they remain at code red.
Find more articles on broadband in Jackson County. (http://tinyurl.com/h3vyqx9)
Households with Device Access
Computer
88%
93.6%
statewide
Desktop or Laptop
77.4%
80.6%
statewide
Smartphone
5%
7.7%
statewide
Tablet
58.1%
63.8%
statewide
Has Worked with Blandin Foundation
Yes
Has Received MN Grant(s)
Yes
In 2010, Southwest Minnesota Broadband Services (SMBS) received ARRA funds to deploy fiber to the home in Jackson and other counties. Through SMBS, Jackson County was also part of the Blandin Broadband Communities initiative in 2015-2016
2015 – MVTV Wireless Middle Mile – Grant award: $808,080
There is a matrix of Minnesota broadband adoption projects; it includes projects from this area.
Government Districts
U.S. Congress: CD 1
MN Senate: 22, 23
MN House: 22B, 23A