Table of goal data by year

| Year | Rank | 100/20 Mbps |
| --- | --- | --- |
| 2021 | #8 of 87 | 98.98% |
| 2020 | #6 of 87 | 98.97% |
| 2019 | #4 of 87 | 98.94% |
| 2018 | #3 of 87 | 98.97% |
| 2017 | #4 of 87 | 98.57% |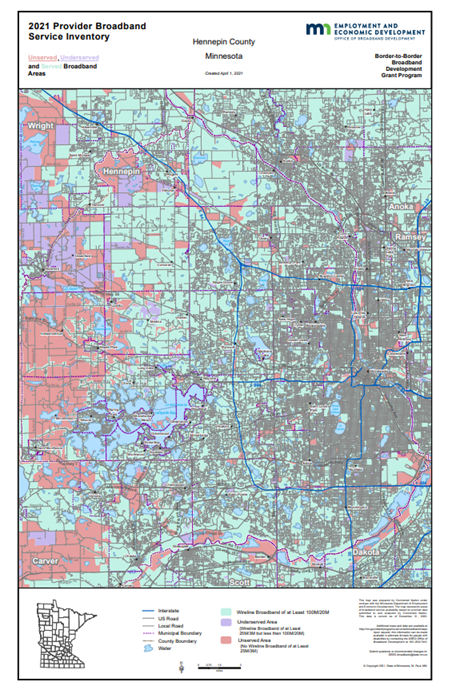 Rank: 8 (out of 87) for access to 100/20 megabits per second (Mbps)
Hennepin County is dipping in the ranking but their coverage remains the same. It just means other counties are catching up to them and that's' good since they have nearly ubiquitous coverage.
Hennepin has the population density that makes an easy business case for providers to want to serve the area.
Hennepin County will benefit from a few MN State Grants awarded in 2021:
Mediacom Minnesota LLC – Minnestrista Project – GRANT $189,752
This last mile project will serve 80 unserved households in Minnestrista in Hennepin County.
The grant will likely help push Hennepin County even closer to their goal but it is their population density and metro standing that make the code green so easy.
Find more articles on broadband in Hennepin County. (http://tinyurl.com/z9n7ea6)
Households with Device Access
Computer
93.8%
93.6%
statewide
Desktop or Laptop
85.7%
80.6%
statewide
Smartphone
4.2%
7.7%
statewide
Tablet
64.8%
63.8%
statewide
Has Worked with Blandin Foundation
No
Has Received MN Grant(s)
Yes
2017 – Mediacom Minnesota LLC – Medina 2018 Broadband Build – GRANT $62,219
Government Districts
U.S. Congress: CD 4, CD 5, CD 6
MN Senate: 29, 30, 33, 34, 36, 40, 41, 44, 45, 46, 48, 49, 50, 59, 60, 61, 62, 63
MN House: 29A, 30B, 33A, 33B, 34A, 34B, 36A, 36B, 40A, 40B, 41B, 44A, 44B, 45A, 45B, 46A, 46B, 48A, 48B, 49A, 49B, 50A, 50B, 59A, 60A, 60B, 61A, 61B, 62A, 62B, 63A, 63B, 59B