Table of goal data by year

| Year | Rank | 100/20 Mbps |
| --- | --- | --- |
| 2021 | #84 of 87 | 43.95% |
| 2020 | #83 of 87 | 40.56% |
| 2019 | #77 of 87 | 39.2% |
| 2018 | #60 of 87 | 42.28% |
| 2017 | #44 of 87 | 49.13% |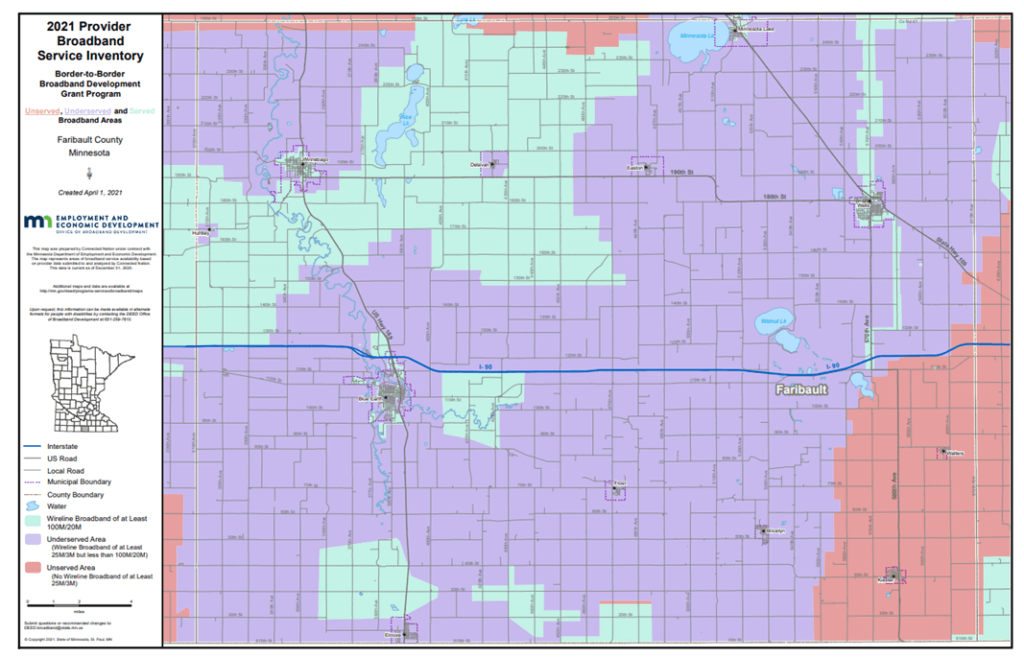 Rank: 82 (out of 87) for access to 100/20 megabits per second (Mbps)
Faribault County is served primarily by BEVCOMM and Mediacom. They are engaged but they are still hovering at 40 percent access. One strange issue is that they are well served at the slower speed of 25/3 Mbps, which means many residents may be complacent, but it does not build for the future or attract new people of business.
In August, Faribault County was awarded $2,886,206 for broadband improvement from the MN Department of Employment and Economic Development (DEED) from the Small Cities Coronavirus Community Development Block Grant Program. Also projected allocation of American Recovery Project ARP funds in Faribault is $2,647,915; broadband is one possible use.
Faribault County will benefit from a few MN State Grants awarded in 2021:
BEVCOMM (Blue Earth Valley Telephone Company, Easton Telephone Company & Cannon Valley Telecom) – Rural Faribault County and Martin County Fiber Expansion Phase 2 Project – GRANT $1,182,818
This last mile project will serve approximately two unserved households, 203 underserved households, 46 underserved businesses, and 181 underserved farms in portions of Faribault and Martin counties.
Winnebago Cooperative Telecom Association – SE Faribault/W Freeborn County FTTP – GRANT $953,842
This last-mile fiber optic project will bring service to 319 unserved locations, including 289 homes, 16 businesses, 11 farms, and three community anchor institutions in the townships of Clark, Foster, Kiester, Seely, Alden, Carlston, Manchester, Mansfield, and Pickerel Lake located in Southeastern Faribault and Western Freeborn counties.
The influx of money is hopeful but they have a steep climb and that is why they are still code red. They may benefit from intervention, such as the Blandin Accelerate program, a process to spur community acquisition and deployment of federal and state broadband funds, to find an alternative solution.
Find more articles on broadband in Faribault County. (http://tinyurl.com/jzwv3gx)
Households with Device Access
Computer
84%
93.6%
statewide
Desktop or Laptop
71.5%
80.6%
statewide
Smartphone
8.1%
7.7%
statewide
Tablet
45.7%
63.8%
statewide
Has Worked with Blandin Foundation
Yes
Has Received MN Grant(s)
Yes
2017 – BEVCOMM (Easton Telephone Company) – Delavan SE Rural Project – GRANT $220,350
2016 – BLUE EARTH VALLEY TELEPHONE CO. (DBA BEVCOMM) RURAL WINNEBAGO – GRANT:  $152,828
2015 – BEVCOMM Blue Earth Valley Telephone – Rural Winnebago Fiber-to-the-Premises Project – Grant award: $142,690
BEVCOMM (Blue Earth Valley Telephone Company & Easton Telephone Company) – Rural Faribault County Project – GRANT: $579,781
BEVCOMM received CARES Act funding from the County for broadband expansion.
Government Districts
U.S. Congress: CD 1
MN Senate: 23, 27
MN House: 23A, 27A