Table of goal data by year

| Year | Rank | 100/20 Mbps |
| --- | --- | --- |
| 2021 | #25 of 87 | 90.2% |
| 2020 | #20 of 87 | 89.37% |
| 2019 | #16 of 87 | 92.14% |
| 2018 | #17 of 87 | 85.09% |
| 2017 | #18 of 87 | 81.04% |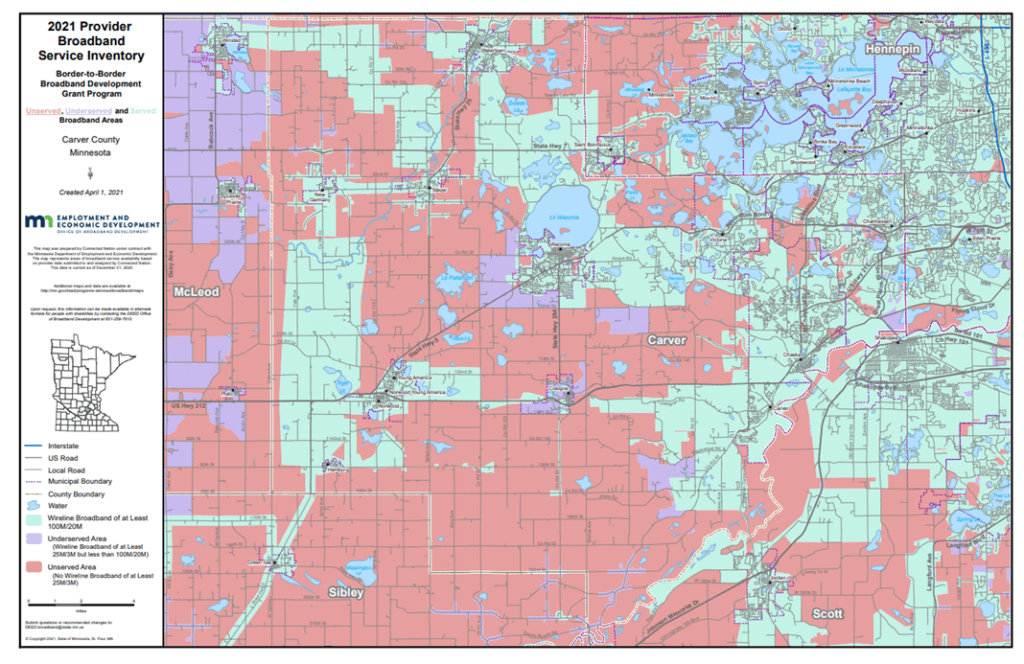 Rank: 25 (out of 87) for access to 100/20 megabits per second (Mbps)
Carver County has seen only incremental improvement in broadband coverage since we have been keeping track. In 2013, they got American Recovery and Reinvestment Act (ARRA) funding to build a start to a community-wide network, but not much has happened since.
The cities and towns are well served but areas with lower population density are not. As a report from the Institute for Local Self Reliance pointed out, networks in Carver County have done little to improve residential or commercial Internet access, though they have led to significant local government savings. However, projected allocation of American Recovery Project ARP funds in Carver is $20,381,364; broadband is one possible use.
Obviously at 90+ percentage coverage, Carver is close to the ubiquitous goal, but they have been hovering too long. Without a concerted effort, they will not do it and that's why they are code yellow.
In 2013, Carver County received ARRA funding for Carverlink, a publicly owned 89-mile base ring with 33 miles of lateral lines. It was completed in Fall of 2013.
Find more articles on broadband in Carver County. (http://tinyurl.com/jxj9v9x)
Households with Device Access
Computer
95.1%
93.6%
statewide
Desktop or Laptop
89.6%
80.6%
statewide
Smartphone
2.8%
7.7%
statewide
Tablet
71.9%
63.8%
statewide
Has Worked with Blandin Foundation
No
Has Received MN Grant(s)
No
Government Districts
U.S. Congress: CD 3, CD 6
MN Senate: 33, 47
MN House: 33B, 47A, 47B