Table of goal data by year

| Year | Rank | 100/20 Mbps |
| --- | --- | --- |
| 2021 | #24 of 87 | 90.25% |
| 2020 | #21 of 87 | 89.36% |
| 2019 | #21 of 87 | 88.18% |
| 2018 | #75 of 87 | 25.83% |
| 2017 | #74 of 87 | 14.28% |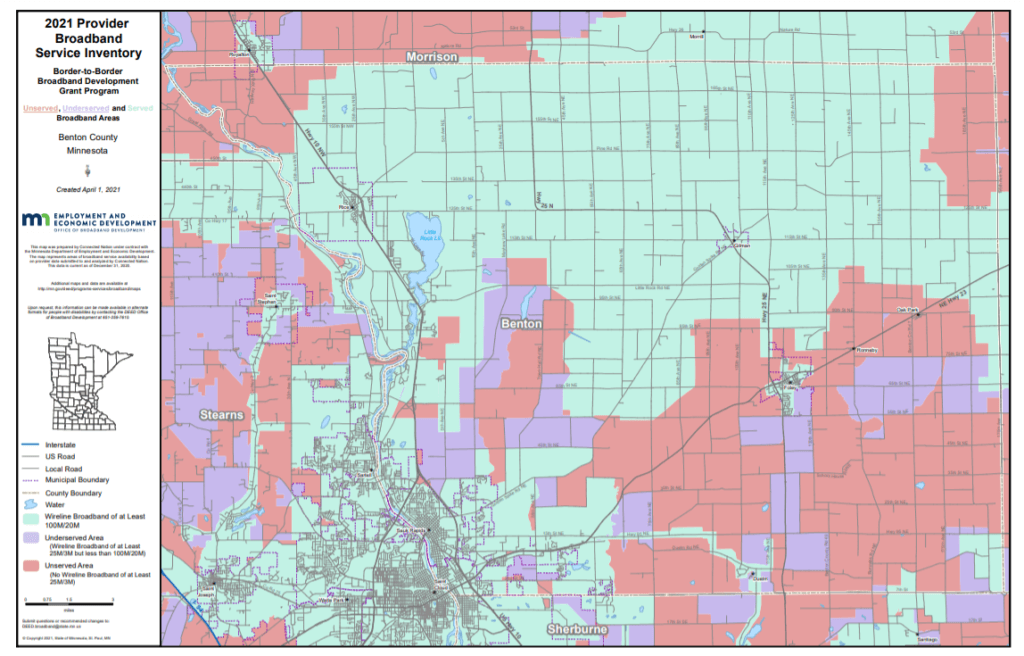 Rank: 24 (out of 87) for access to 100/20 megabits per second (Mbps)
Two years ago, Benton County moved the broadband needle from 26 to 88 percent for access to 100/20 Mbps after benefitting from two MN Border to Border grants. Change has been minimal since that time.
In September, they were part of a regional broadband conference, as part of the annual Blandin Broadband conference. Hopefully that will spur greatest interest and movement forward.
Benton will benefit from a MN State Grant awarded in 2021:
Benton Cooperative Telephone Company – Ramey Phase 2 Project – GRANT $338,011 (Mille Lacs County)
This last mile project will serve 119 unserved locations in the Ramey telephone exchange located in portions of Lakin and Mount Morris townships in Morrison County and a small portion of Dailey and Page townships located in Mille Lacs County.
Benton receives a yellow ranking because they are stalled. They are certainly better off than many counties but to reach ubiquitous coverage, they will need a push like they had leading up to 2019 improvement. Projection for allocation of American Recovery Project ARP funds in Benton is $7,930,170; broadband is one possible use. Maybe that will inspire them.
Find more articles on broadband in Benton County (https://blandinonbroadband.org/?s=benton+county&submit=Search)
Households with Device Access
Computer
90.7%
93.6%
statewide
Desktop or Laptop
76.3%
80.6%
statewide
Smartphone
7.1%
7.7%
statewide
Tablet
55.5%
63.8%
statewide
Has Worked with Blandin Foundation
Yes
Has Received MN Grant(s)
Yes
2017 – Benton Cooperative Telephone Company – Rice Ramey – GRANT $765,015
2017 – Palmer Wireless – Duelm Hwy 95 – GRANT $162,814
2014-CenturyLink Foley, Benton County–Balkan Township – Award: $382,883.
2020:Benton Cooperative Telephone Company – Ramey Phase I – GRANT $936,759
Government Districts
U.S. Congress: CD 6
MN Senate: 13, 14, 15
MN House: 13B, 14B, 15B