Image: pelican rapids
Download Inclusion Report (PDF)
A healthy community is a place where all people can
Meet their needs: economic, social, physical, cultural, and spiritual.
Work together for the common good.
Participate in create their future.
A community's health is made up of many separate but inter-related dimensions. Rural Pulse 2016 breaks down rural Minnesotans' perceptions of a healthy community by nine dimensions.
One of the nine dimensions is Inclusion, defined as people consistently making the effort required to capitalize on the range of differences in the community, and intentionally seek ways to utilize the diverse backgrounds, experiences and skills of everyone for the benefit of the whole community.
A Changing Landscape
More than half of rural residents surveyed feel their community's ethnic or racial makeup has become more diverse over the past five years. In fact, 53 percent agree with this, versus 37 percent who say it has stayed the same. Urban residents are more likely than their rural counterparts to feel the population has diversified in recent years (66% urban, 53% rural).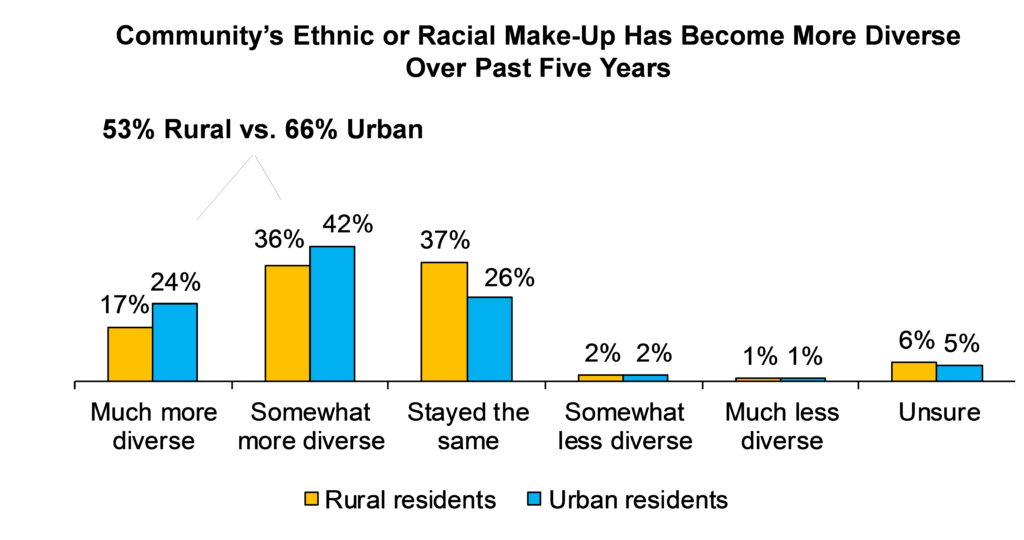 West Central and Southeast residents are the most likely to believe that their communities are diversifying.

Welcoming and Accepting of Differences
Though there is belief that diversity is increasing in rural Minnesota, the environment appears to be less amicable to residents of differing backgrounds and perspectives. Nearly three in 10 (27%) rural residents surveyed do not feel their community is welcoming to people of varying backgrounds and perspectives. Seven in 10 (71%) say that they feel their community is inviting, compared to 84 percent of urban residents who say that they feel that way. This represents a significant 11-point downturn from Rural Pulse 2013 study findings.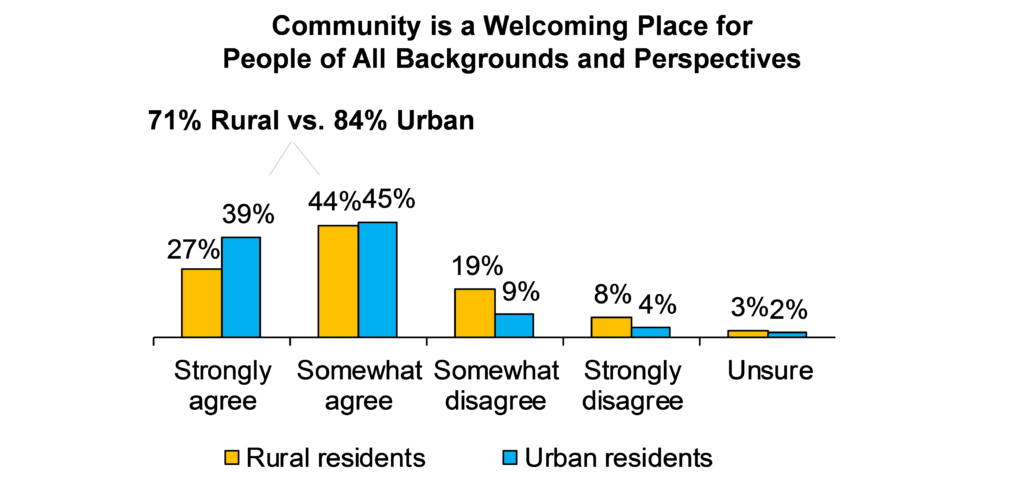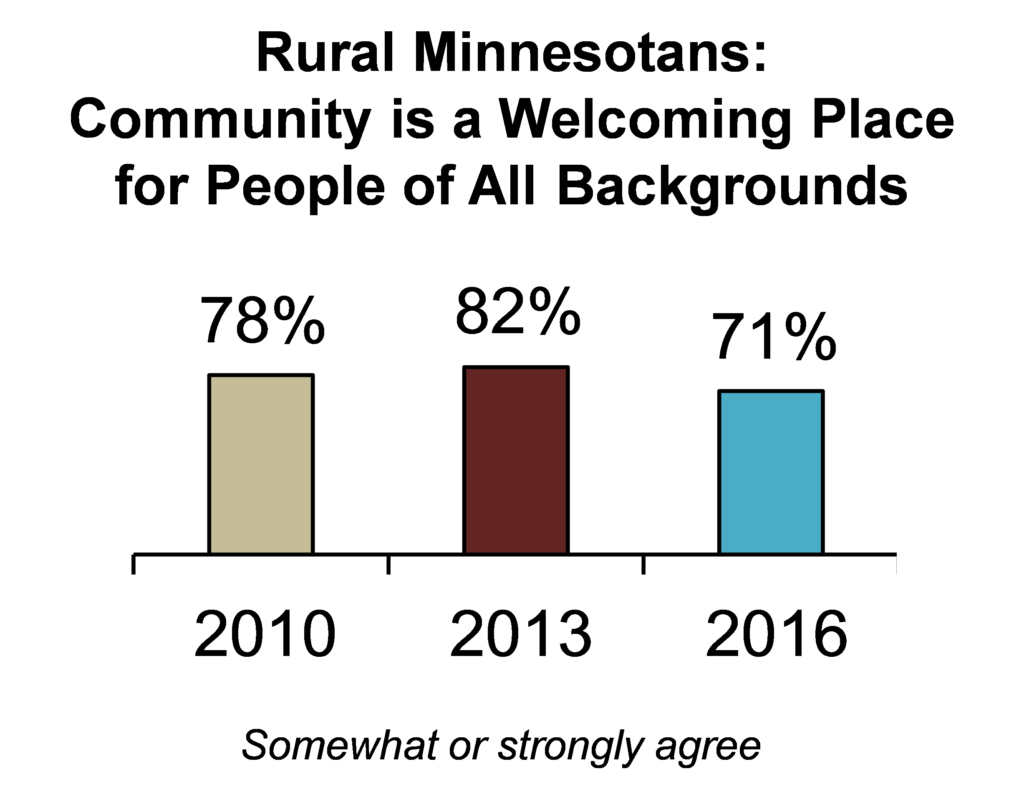 Those in Northwestern Minnesota are the least likely to agree that their community is welcoming.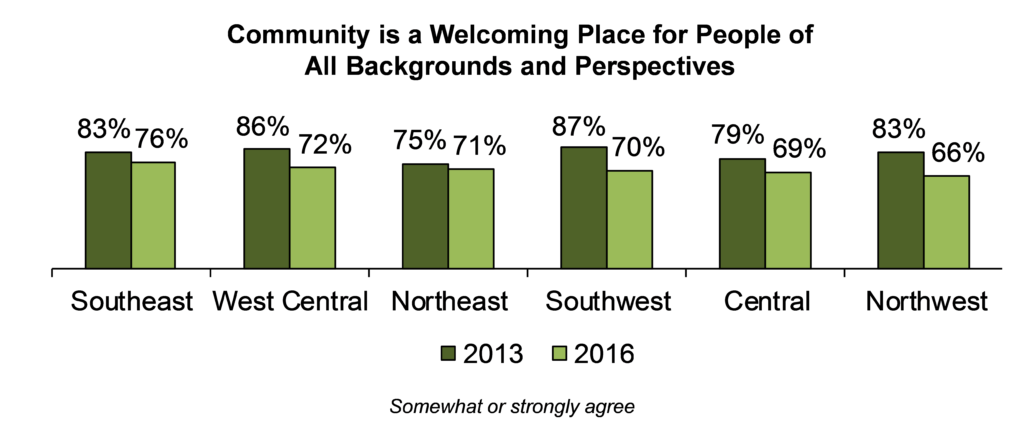 Similarly, when asked if they feel their community does a good job accepting and embracing differences, such as ethnicity, sexual orientation, religion or nationality, about seven in 10 (69%) rural residents surveyed feel it does, compared to 81 percent of urban residents. About one in four (25%) feel their community does not do so.

Residents in Northwestern and Central Minnesota are the least likely to feel that their communities are accepting.

Working Cohesively and Across Differences
When asked whether they feel local community members work well together, confidence is slightly lower. Nearly one in four (23%) rural residents say that they do not feel their community works together cohesively, compared to 73 percent who say that they feel it does, similar to previous study findings.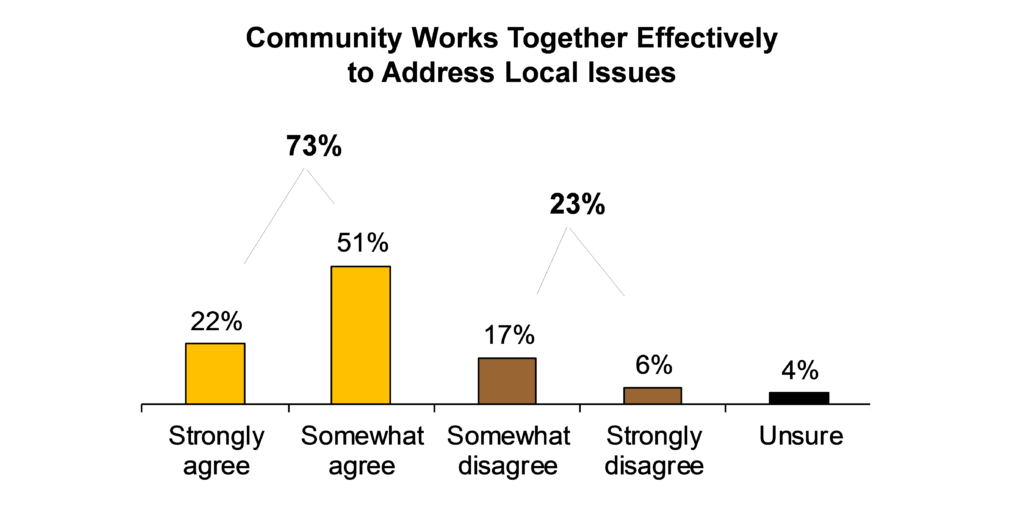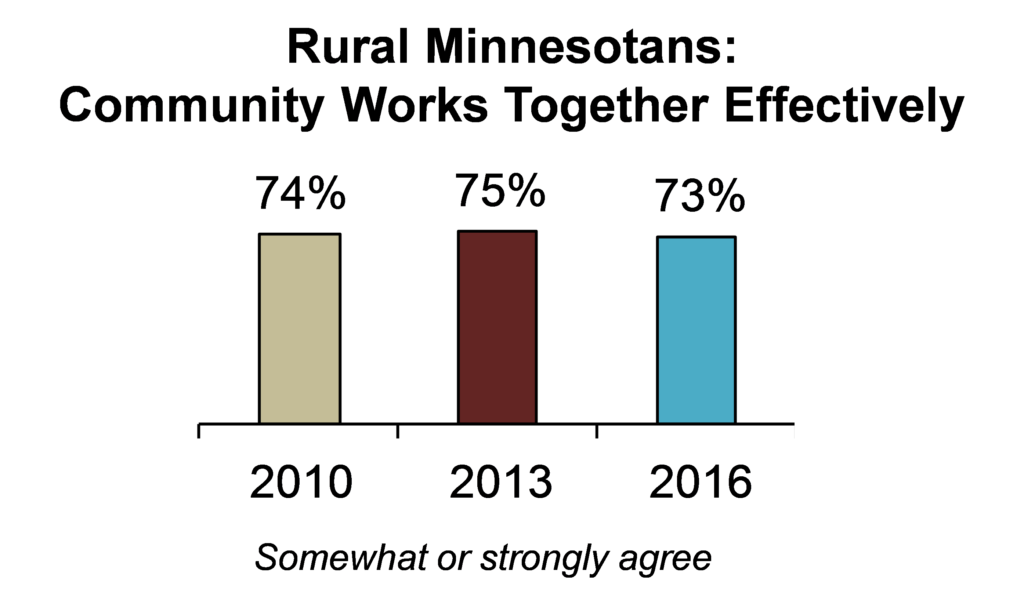 Residents in the Southeast, West Central and Northwest regions are the most likely to believe in community cohesion.

When specifically asked if they feel residents are able to work across differences such as ethnicity, sexual orientation, religion and nationality, the findings are similar. Close to three in four (73%) agree, while 22 percent do not.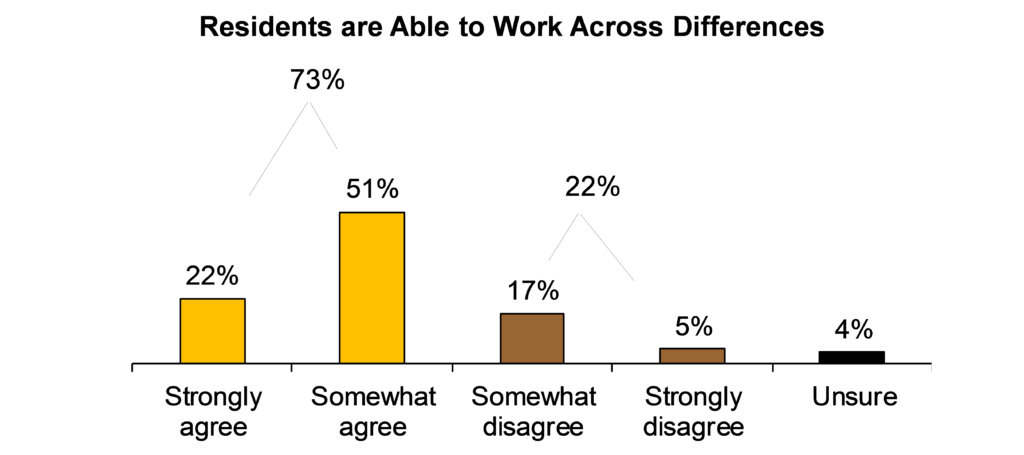 Residents in the Southwest show the most decline in their views about residents being able to work across differences since 2013 (down 12%).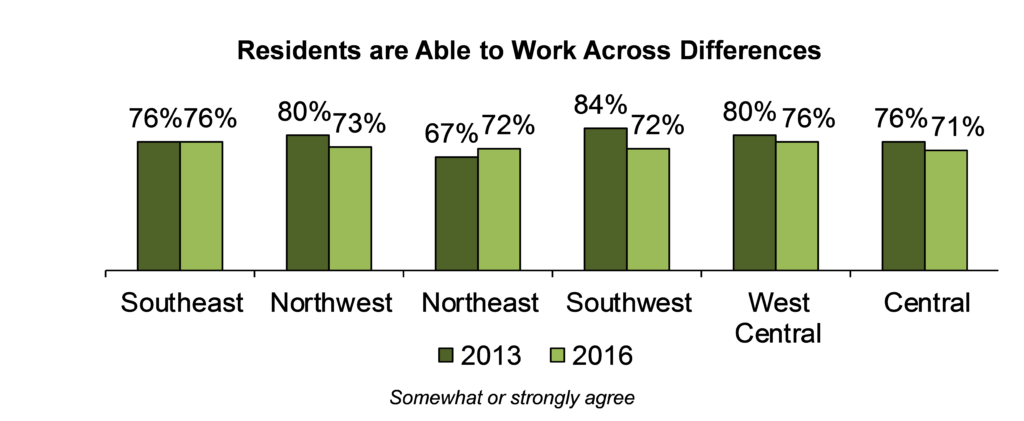 Men are slightly more positive than women about their community being welcoming and able to work across differences.

Younger Millennials (ages 18 to 24) and those with lower incomes are the least positive about inclusion and the ability for community members to work cohesively. Business owners are more likely than non-business owners to feel their community works across differences.