Image: Blog hero Plant Plate 09 boys dig in
GroundWork
News and ideas you can use to strengthen rural Minnesota communities.
Riverfest Creates Community, Celebrates "Home"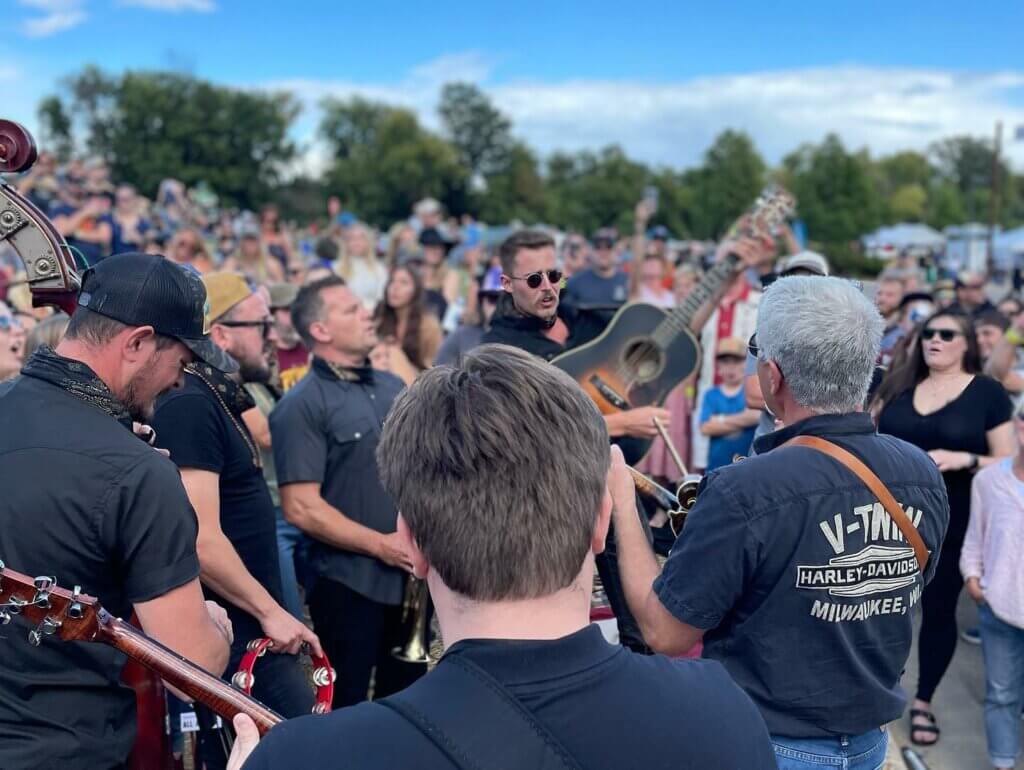 by Alie McInerney Posted in Vibrant Rural
You know that feeling you get when you walk through your front door after a long while gone? That instantaneous action, and reaction, of filling your lungs with air that is uniquely yours that smells, tastes and wraps around you in a way that cheers, "You're home!"
That was the feeling bursting from the hearts of local Riverfest attendees this weekend.
Set with the backdrop of the Grand Rapids Area Library and Northern Community Radio – KAXE/KBXE on the banks of the Mississippi River, the second annual Riverfest infused the spirit and soul of the Grand Rapids community into every detail. From the lit Riverwalk path celebrating the river's role in our community to the recently revealed musical park that called to the young and young-at-heart; the local artists woven throughout the concert experience to the ample green space that gave the event a laid-back, family-friendly vibe. It was more than just a concert; it was a celebration of home. As you toe-tapped to some tubular tunes, you couldn't help but hum with pride for being part of this amazing community.
This is the power of placemaking. When done right, it makes you feel – feel connected, feel motivated, feel invested in the future of your community. And that feeling can spur change.
That's why Blandin Foundation is investing in Rural Placemaking as one of its three focus areas. Through strategically shaping the physical and social character of a community, local doers and dreamers can create a distinct sense of place, a feeling of "home," that can boost economic opportunity while bonding people to each other and to the shared place they love. With grant funding and capacity building opportunities, we will support this type of community work that integrates arts, culture and design activities to move communities toward sustainable and equitable futures.
Don't take our word for it, though. Visit the Riverfest Facebook or Instagram pages to see rural placemaking in action!
**Photo credit: Grand Rapids Riverfest Facebook Page
Sign Up for E-News
Subscribe to our periodic newsletter for updates and opportunities about vibrant rural Minnesota.