Image: Blog hero Plant Plate 09 boys dig in
GroundWork
News and ideas you can use to strengthen rural Minnesota communities.
To move rural places forward, federal funding systems must reflect today's rural realities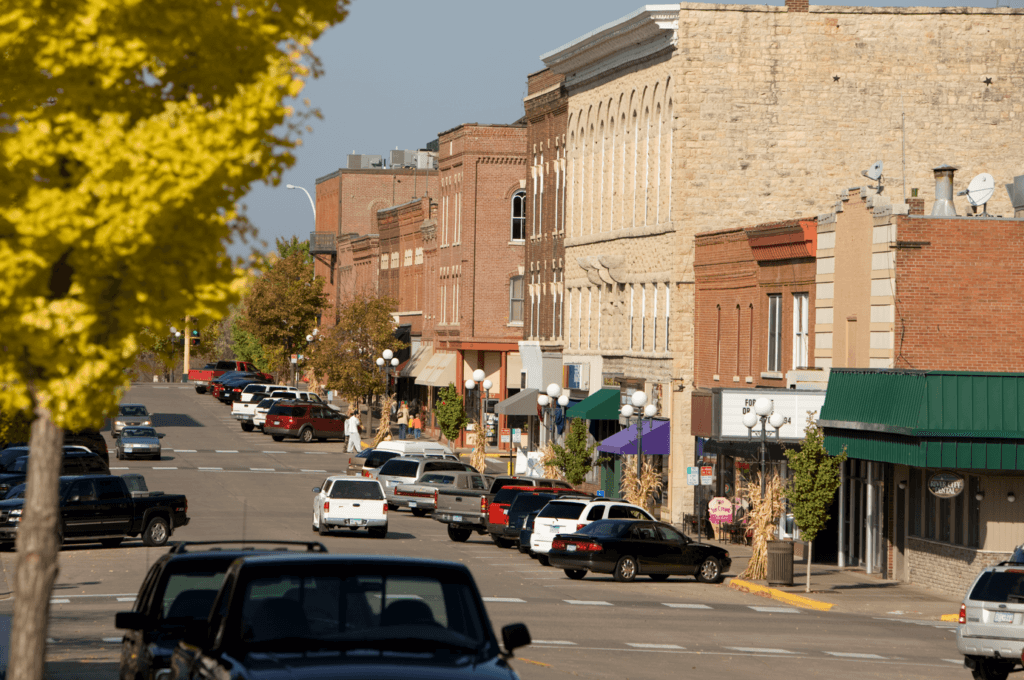 by Alie McInerney Posted in Vibrant Rural
Historic. Unique. Unprecedented. Once-in-a-lifetime. These are just a few words folks are using to talk about federal dollars soon-to-be available to rural communities.
And while the injection of billions has the potential to make real and lasting change in rural communities, the barriers that make federal money dang-near impossible to access should be front-and-center as decisions are being made how to get the money where its most needed.
At the recent Investing in Rural America Conference, Tom Barkin of the Federal Reserve Bank of Richmond identified and elevated three key barriers rural leaders named when asked why this cascade of federal resources will be difficult to access.
First, grants are complicated. They require intensive research and documentation. Applications are often dozens — or even hundreds — of pages long, requiring sophisticated data interpretation, technical writing and dozens of attachments. And the administrative requirements can feel burdensome. Many organizations don't have the necessary time or expertise, particularly for grants that require unique data. For example, ARC POWER grants help coal-impacted communities. But we heard from one recipient that organizations should set aside a whole month for the application process. And ARC is regarded by grantees as one of the more flexible federal agencies — Economic Development Administration (EDA), U.S. Department of Agriculture (USDA) and other agency grant programs are often more restrictive and more complicated. Grant processes can be complicated for the agency making the grant too, which all too often finds itself understaffed.

Second, they often require organizations to raise money. Many grants require matching funds that small communities can't raise. For example, the Rural Surface Transportation Grant Program requires a 20 percent match. Sometimes funders will allow applicants to waive match requirements, but that waiver can still lead to a lower application score. Additionally, you usually can't match federal grants with other federal funds — even from another agency. This means you need private funders or local governments that are ready to step up and provide time-sensitive match commitments, which often isn't possible in resource-constrained rural communities. Because of this, some low-resource communities either self-select out of applying for grants, or they significantly downgrade the size of their projects.

Third, there's a bias toward experience. Grantors quite naturally prefer to invest with someone they have confidence has the capacity to deliver. So, they favor organizations with a proven track record or with a leader they already know, which can leave less experienced organizations and under-resourced regions out of the running. It is possible, or even likely, that the lion's share of federal funds will flow to the institutions and organizations that are already established and well-resourced.
This is not the first time we've heard about these barriers for rural communities. Teams at Brookings and Aspen Institute's Community Strategies Group have been looking into how federal money is – or, in many cases, is not – flowing into the rural communities being targeted.
In his conference remarks, Barkin outlines "three tangible, practical opportunities" to make sure stimulus money gets to small towns.
Help communities write grants. This could be done by hiring or funding experienced, proven grant writers directly. There is subject matter expertise out there, and foundations can play a meaningful role helping to connect experts to small towns with opportunities. Alternatively, this could be done by providing targeted advice. For example, Generation West Virginia and the Benedum Foundation work together to provide communities with grant writing support and other forms of technical assistance to coach them through the complicated process of planning for and accessing broadband funding.

Create pools of match funding. This could be a great role for states. If match funding is the barrier, create a pool which goes to communities and local organizations that earn the match. Localities with excess funds coming out of the pandemic could step up too. This would increase the number of grants applied for and productively leverage local money with federal money. And anything a state can do to adequately resource the distribution of funds would be of value too.

Help build local capacity. I am intrigued by the idea of "rural development hubs," as defined by the Aspen Community Strategies Group. These regional organizations build local capacity. They foster creative development strategies and build connections between states, funders and localities. They are close to their communities' needs and wants. They serve as conveners, coordinators and intermediaries for grassroots efforts, allowing collections of projects and organizations to come together and pursue funding and strategies that are only possible through collaboration.
Rural communities are resourceful and resilient. When there are challenges facing our communities, like those that reared up during the pandemic, we lend a hand to get things done. To move rural places forward in a sustainable and equitable way, though, federal systems, and the policies and practices that perpetuate them, must reflect today's rural realities. There has never been a better time to see, understand and work together with rural people to change the systems that create the chronic disparities experienced by too many.
Thanks to Mr. Barkin for lighting the way for these conversations to take place.
Sign Up for E-News
Subscribe to our periodic newsletter for updates and opportunities about vibrant rural Minnesota.