Image: Blog hero Plant Plate 09 boys dig in
GroundWork
News and ideas you can use to strengthen rural Minnesota communities.
Rural Pulse 2019: More urban Minnesotans consider rural, creating new opportunities for recruitment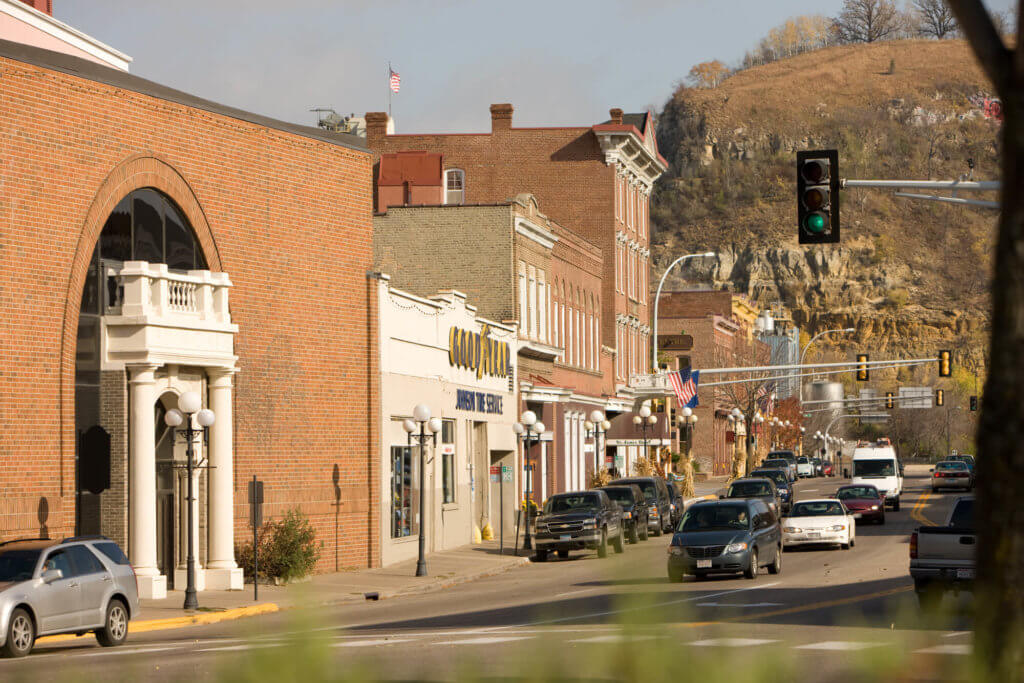 by Alie McInerney Posted in Tools You Can Use
A good job and a balanced life. It's something we all strive for. But are we more likely to achieve one or the other depending on where we live?
Yes – according to more than 1,600 Minnesota residents whose perceptions were captured in the Rural Pulse survey released last week.
Quality of Life and In-migration
The research shows a significant uptick (6%) in urban respondents who say they are considering a move to a rural community with quality of life being the standout reason.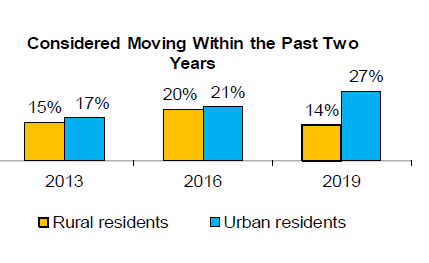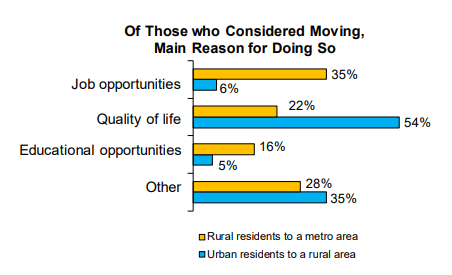 This data point is one thread that can be woven into a growing body of research around rural migration. A recent Gallup poll showed that across the United States, 27 percent of respondents said they would prefer living in a rural community. Brain Gain research, pioneered by the University of Minnesota Extension Center for Community Vitality, found that the population of residents ages 30-49 are increasing in rural Minnesota. Why? A "simpler life." Center for Rural Policy and Development confirmed these findings in their State of Rural 2019 report.

Source: Center for Rural Policy and Development
Jobs and Outmigration
Rural leaders – let this data be a shot of energy to your work. People want to move to your town! But know, there's work ahead.
While down 6 percent since 2013, 14 percent of rural Minnesotans are still considering a move to an urban area.  Who are they? The majority are 1) young people, 2) those who earn $35,000 or less and 3) women.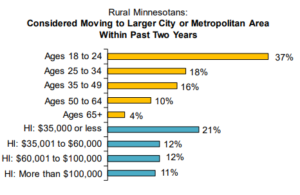 Young Minnesotans are moving to pursue educational opportunities, and that's good. We will see them in 10 years and welcome their young families back with open arms!
Women and low-earning rural residents, however, offer a more immediate opportunity. It's jobs that are calling them to the big city. Yet, research shows there are more jobs available in rural Minnesota now than ever before.
With a rising number of urban Minnesotans looking to make the move to rural, some rural people believing they have better job opportunities in urban, and a workforce shortage already impacting rural economies, economic developers are changing up their traditional strategies to focus on people, instead of jobs.
People recruitment is complex and multi-faceted, but good data can help you make smart choices on where to focus your community's efforts.
Putting Rural Pulse Data to Work in Your Community
So how can a community use Rural Pulse to inform people recruitment and retention strategies?
Download your region's Rural Pulse data. Look at who is considering a move to an urban community and what's their reason.
Gather a diverse group of community stakeholders (here's a guide for how to do this well!) and through the lens of your region's Rural Pulse data, answer the question:
How can this data help us make more precise choices to improve how we are attracting, welcoming and sustaining people in our community?
Don't have a people retention and recruitment strategy? You don't have to start from scratch! Communities across the state are already hard at work moving from strategy to practice – with positive results.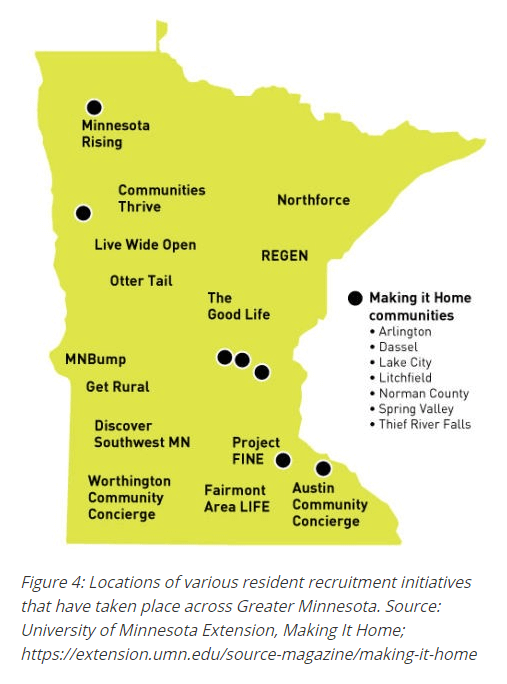 Here are some tested strategies borrowed from other rural Minnesota communities to get you started.
Plant the seed for your youth. Nurture and support youth in their pursuit of further education and new experiences. Equip them with the tools they need to succeed in new environments. Help them navigate the vast sea of opportunity to find their points of passion. Connect them with mentor in the community who can help guide their immediate choices, but also offer a first-person account of what it's like to work at home. Help local youth see your community as a viable option rather than a life sentence.
Make job opportunities visible. Most rural communities do not have a single jobs hub to promote openings to current or potential residents. A job seeker might have to search newspaper print ads, Facebook posts, job aggregator sites and more to see all of what's available. It's important to not only have a single jobs hub, but to make sure your target recruits can access it.
At every touch point, be ready. The first point of contact for a potential new resident could happen anywhere. It might be at a gas station when someone is just passing through. A grocery store, bait shop or hotel. It could happen right after a job interview or in the middle of a vacation. Communities who excel at people recruitment are ready to "sell" their community at any of these touch points and more. This means in addition to formal front line service training, you should be communicating clearly and consistently about the community narrative you want residents sharing.
Get newcomers connected. Fast. If you've done your work and a recruit moves to town, begin retention efforts immediately! Work with existing networks in your community to plug newcomers into the fabric of the community. They will be much more likely to stay and contribute to the health of your community if they've built up connections and relationships.
Whether your community's people recruitment efforts are just lifting off or you have a few missions under your belt, you can use Rural Pulse data to hone your strategies so you're focusing on the right people with the right message.
Sign Up for E-News
Subscribe to our periodic newsletter for updates and opportunities about vibrant rural Minnesota.