Special Presentation: Thomas Friedman
How I Think About the Importance of Communities in the 21st Century

Thomas L. Friedman is an internationally renowned author, reporter, and, columnist. He is the recipient of three Pulitzer Prizes – two for international reporting from the Middle East and a third for his columns written about 9/11. He is the author of seven New York Times bestsellers — From Beirut to Jerusalem, The Lexus and the Olive Tree, Longitudes and Attitudes, The World Is Flat, Hot Flat and Crowded, That Used To Be Us (with Michael Mandelbaum) and, most recently, Thank You For Being Late. Friedman was born in Minneapolis, Minnesota, on July 20, 1953, and grew up in the middle-class Minneapolis suburb of St. Louis Park.
It was a visit to Israel with his parents during Christmas vacation in 1968–69 that stirred his interest in the Middle East, and it was his high school journalism teacher, Hattie Steinberg, who inspired in him a love of reporting and newspapers.  Fun fact: St. Louis Park was immortalized in the 2009 Coen brothers movie, A Serious Man. Friedman, Ethan and Joel Coen, Senator Al Franken, political scientist Norman J. Ornstein, former NFL football coach Marc Trestman, Harvard University philosopher Michael J. Sandel and author Peggy Orenstein all grew up around St. Louis Park in the 1960s and early 70s — and most of them went to St. Louis Park High School and the local Hebrew school. The Coen brothers once compared St. Louis Park to the small region in Hungary that had produced numerous nuclear physicists and Draculas.
Friedman earned his B.A. from Brandeis in 1975 and was awarded a Marshall Scholarship by the British government and earned an M.Phil in Modern Middle East Studies from St. Antony's College, Oxford. He started his journalism career with UPI on London's legendary Fleet Street in 1978. After serving as a Beirut reporter for UPI for two years he was hired by the New York Times in 1981, where he served as the Beirut bureau chief, Jerusalem bureau chief, chief diplomatic correspondent, international economics correspondent and, since 1995, its foreign affairs columnist.
Friedman is the son of Harold and Margaret Friedman. He has two older sisters, Shelley and Jane. His wife, Ann, is the founder of the word-language-literacy museum — Planet Word — in Washington DC. Friedman is the museum's Vice Chairman. He and is wife have two daughters, Orly and Natalie.
---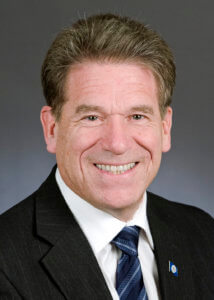 Friedman's remark will be followed by discussion and Q&A moderated by Mark Ritchie, President of Global Minnesota, the World Affairs Council based in Minneapolis.
Mark was Minnesota's elected Secretary of State from 2007 until retirement in 2015. In this role, Mark was the champion for making Minnesota the #1 place for employment growth by encouraging small and medium-sized companies, public benefit corporations, and non-profits. Minnesota's high ranking for business climate is one of the many outcomes of supporting startups and entrepreneurs here in Minnesota. Mark is a co-founders of the Singularity University chapter in the Twin Cities and serves as Minnesota's Civilian Aide to the Secretary of the United States Army.
Since 2014 Mark has led the public-private partnership working to bring the 2027 World's Fair to Minnesota with a focus on health and wellness. This World Expo will be organized to help achieve the United Nation's Global Goals for Sustainable Development in Health, under the theme "Healthy People, Healthy Planet."