Image: Rose Carpenter Greenway scholarships for web
Scholarship voice: Rose Carpenter
Choosing community as a foundation for learning 
Rose Carpenter became part of the Itasca area just two years before graduating high school – and jumped into Greenway High School student life with both feet. Her determination, courage, curiosity and the sense of belonging she has felt here are propelling her path as a first-generation college student at the College of St. Scholastica.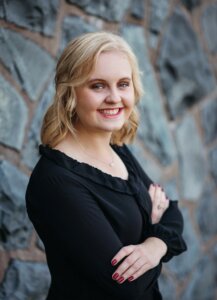 I am a 2019 graduate of Greenway High School. At Greenway High School, I was an active member of the community serving as Symphonic Band President, Raider Singers Vice-President, football cheerleading co-captain, yearbook editor, student council President, and other clubs and activities. I transferred to GHS at the start of my junior year. Unlike most people, I was not born into the community–I chose to be a part of it, and that choice remains to be one of the greatest decisions of my life. I understood that Greenway could provide me with the necessary tools needed for when I entered college, and I can truly say that I was prepared indeed. College has always been in my life plan, but as a first-generation college student, there were many unknowns.  
Along my educational journey, it was my teachers and guidance counselors that made the true impact. Their knowledge of higher education and the scholarship funding that is offered through the local community helped me to become aware of the Blandin Foundation. My mother was also a core influence and support in this journey through her love and the challenges she encouraged me to face. I applied for a Blandin Foundation Education Grant once I learned how much financial support they provide to students in the local community. I am blessed to have such financial support now knowing that not every student who attends college has that. Some advice I am willing to share to students and families that have not gone through the college process before: be sure to ask questions! Ask questions to teachers, to counselors, to college staff and faculty…everyone is happy and willing to help! These people are incredible resources on this educational journey–use these resources! 
I fell in love with learning and education very early on in my childhood schooling. As I continue my third year at The College of St. Scholastica as a Communication major, I continue to love the environment of higher education. Currently, I serve as the Admissions Intern in the Office of Admissions, and also serve as the Student Trustee on the Board of Trustees at the College. Just like Greenway High School feels like home to me, The College of St. Scholastica feels like my second home that I want to live and breathe for a long time. The small class sizes and the close community it offers resembles my local community at GHS. I plan to combine my two "homes" into one eventually for my career path. I plan to continue my meaningful work after graduation to focus on the greater Itasca and Iron Range communities of students seeking higher education. Once a student with many college questions myself, I want to be able to serve my community and use my skills to enhance the knowledge students have about higher education. This career may come with various options, but two factors remain clear to me: serving my local community in some capacity, and emphasizing the importance of higher education.