LuAnn Robinson
Grants Program Assistant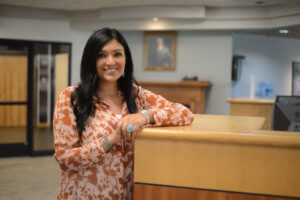 As a member of the Foundation's Grants team, LuAnn responds to inquiries about the Foundation's grant programs via phone, walk-ins and online.  She conducts initial due diligence on grant requests, manages the department's online files, creates and maintains reports, and tracks grantee reporting and compliance.
Prior to joining the Foundation in 2019, LuAnn held positions in several departments of the Leech Lake Band of Ojibwe, including planning, human resources, natural resource management, and early childhood development.
She is completing coursework toward a bachelors in Marketing  Communications at Bemidji State University, and earned her associate of arts degree from Leech Lake Tribal College. She lives in the Deer River area, and volunteers with the Deer River school district, Leech Lake Band, and Leech Lake Tribal College.