Jen Alger
Scholarship Outreach Coordinator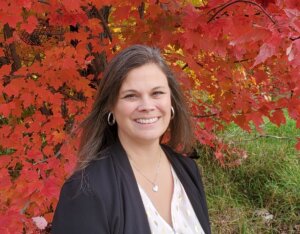 I am a lifelong resident of the Deer River area. As a teenager, I was sure I wanted to get out of my small town and live someplace where nobody knew me. Looking back, I am glad I never left. I appreciate that my childhood was spent with a community who knew me well and looked out for me as I walked to school and hung out with my friends, and who would engage in fun conversations and activities with us kids while encouraging us to pursue our goals. 
I have spent many years in this amazing rural place, and others nearby, raising five children with my wonderful husband and pouring my time and energy into the next generation of rural kids. I have been a long-time volunteer with youth-serving organizations, primarily 4-H, where I have tried to carry on the things I loved about my childhood neighbors – being a positive voice to young people in our area, encouraging them to pursue their dreams.
While my entrance into higher education was delayed for many of the same reasons other rural, first-generation people experience, like not knowing what classes I needed to complete degree requirements or struggling to understand financial aid, I gained many valuable experiences through the challenges I faced. By pushing through the challenges, I have completed a bachelor's degree in organizational leadership with a human services concentration and a master's degree in child and adolescent development. These experiences have inspired me to make higher education easier to navigate for those who are new to the college-going realm.  
I feel so fortunate that I get to go to work every day doing the things that I love – supporting young people and being a voice for them in the community and with organizations, including our own. Managing the day-to-day operations of the scholarship program is just part of the fun. Everyone defines success differently, and everyone has their own path to travel in reaching that definition. I am excited to work at an organization where we can think creatively about how to change difficult systems to make each path easier to navigate for every individual.