Image: grand rapids
Blandin Foundation Grants Approach
Blandin Foundation is devoted exclusively to rural needs. Learn about what we fund and our values framework.
Charles Blandin's original vision
When Charles Blandin established the Blandin Foundation, he knew he was establishing – in perpetuity – a source of support for those who over time had supported him: rural families, rural workers, and rural organizations.  He sought harmony in community.  He wished for things to last.  He valued taking initiative, preferring to support ideas that carried the promise of standing on their own, like he had.  He loved the region around Itasca County and Grand Rapids, Minnesota. He loved education, art, a local economy run by local people, and community life. He was both a civic-centric leader and a private business leader.  He viewed government as an important partner, and aimed not to supplant its essential public responsibility.
Blandin Foundation and its Grant Program continue to find meaning and purpose in this history.  Our values and focus areas have adapted to current rural realities, but our core work of grantmaking toward inspiring resourcefulness that moves rural people and places forward, remains true.
What we fund

Blandin Foundation makes on average 150 grants per year across Grand Rapids Area grants and Rural and Tribal Nations grants.  Typical grants range from $50,000 – $250,000 lasting one to three years. Larger grants of $500,000 or more are not unusual. Our grants are mostly competitive, via two to three open grant invitations per year. We also may offer special projects by invitation, particularly where large-scale, significant change is apparent.  Blandin has a perpetual commitment to its Local Giving Area of Itasca County and Grand Rapids, where at least 60 percent of funds over a 6-year average are granted.
We are a rural-based Foundation that serves two distinct geographies. We focus funding on rural towns under 20,000, with a special commitment to communities of 5,000 or fewer.
Our Local Giving Area of Itasca County and Grand Rapids, and
Minnesota's rural areas and Tribal Nations.
Our grantmaking supports promising ideas, practices, and initiatives that move rural places toward a sustainable and equitable future. We prioritize funding for organizations located in rural communities and led by rural leaders across three program areas: Community Wealth Building, Rural Placemaking, and Small Rural Communities.
Our core values guide what we fund. We bring a mindset of abundance, optimism, innovation, confidence, cooperation and connectedness
we love rural
we lead with compassion
courage plays a big role in encouraging change and moving things forward, and
what we invest in are seeds for our shared future.
We fund for rural equity. Place (where you live), race (who you are) and class (your economic status) provides a framework for us to advance a rural approach to equity.
How we fund
As a strategic grantmaker, Blandin Foundation is:
Community-informed. We build a simple cycle of reciprocity to get in tune with rural Minesota community needs: Listen. Learn. Respond.
Data-informed. Discovering what rural communities truly look like by the numbers and through conversations keeps us clearly focused on most pressing needs, and points to equitable, sustainable solutions. We encourage grantees to become data-informed too.
Holding grantees accountable in grantmaking. Reflection and learning is key, without these we won't make grants. Results and impact are the aim.
Blandin Foundation carries out its grantmaking in the following ways:  (titles tbd):   Within these portfolios, we maintain a healthy balance between new grantees and long-standing ones, and between general operating support grants and program and project grants.
Itasca Strong Grants
Competitive, project-specific grants that impact nonprofits whose missions directly benefit families and workers in the Itasca Area.  Grants must be focused on one or more areas of Organizational Capacity Building.  Grants are complemented by program opportunities and learning cohorts that strengthen nonprofit operations via leadership development, board governance, financial management, fundraising and development, program design and evaluation, and applying coordinated approaches to affecting change locally and regionally. Grants are offered annually and may last from one to three years.1
Rural Communities Grants
Competitive, geographically determined grants that focus on Community Wealth Building, Rural Placemaking, and Small Rural Communities.  Grants are offered annually across at least one focus area.  Rural Communities Grants are also available for grant applicants located in the Itasca Area.
Rural Opportunity Grants
Competitive, geographically determined, and focused on moving forward on issues with long-term implications for a sustainable and equitable Rural Minnesota2.  Funds and opportunities vary from year to year and are co-designed with partner philanthropies who share Blandin's vision and mission.  Rural Opportunity grants often include engagement and learning opportunities via participation in Communities of Practice.  Rural Opportunity Grants are also available for grant applicants located in the Itasca Area.
Content below is from the previous version of the Grants program, and will be moved or replaced.
Eligibility
Eligible organizations and activities are:
Be located within the State of Minnesota

Authorized by the Internal Revenue Service as having Section 501(c)(3) status, being a public agency, a tribal government entity, or a unit of government

Comply with our Anti-Discrimination Policy
   Eligible projects must:
Have a clearly defined charitable purpose recognized by the Internal Revenue Service

 

Benefit and serve rural Minnesota

 
Ineligible organizations & activities are:
Projects outside the state of Minnesota 

 

Projects that support Minnesota metropolitan areas (Minneapolis/St. Paul, Duluth, Moorhead, Rochester, St. Cloud, Mankato)

 

Religious activities

Medical research

 

Travel grants for individuals or groups

 

Camping and athletic programs

 

Ordinary government services

 

Grants solely intended to influence specific legislation or a specific candidate

 
Grant Outcomes
Blandin Foundation is a strategic grantmaker. Applications from organizations working to move rural places forward may be considered following the submission of an inquiry.  
Blandin Foundation's most substantial and broadest form of grantmaking occurs in North-Central Minnesota in Itasca County and parts of the Leech Lake Reservation, including the border communities of Blackduck, Northome, Hill City, and Remer. Grants are made in this region to advance the following outcomes: 
Leaders are using advanced skills to better address disparities. 

 

Leaders are leveraging new resources, inspiring change, and advancing sustainability. 

 
Blandin Foundation also grants funds to rural Minnesota communities to advance the following outcome:  
Rural communities are accessing the power and resources needed to innovate, to change systems to work better for everyone, and to drive development toward a more equitable and sustainable Minnesota.

 
Priority projects will:
Serve small communities under 20,000.

 

Embrace change to create an equitable and sustainable future. 

 

Be inclusive and collaborative, engaging those who benefit from the intended change.

 

Address injustice.

 

Inform and connect community leaders on issues relevant to rural Minnesotans. 
Steps to Apply
Step 1: Check for fit
Review the eligibility and areas of focus sections above. Please note that Blandin Foundation grants only to organizations in the state of Minnesota serving communities of 35,000 people or less. Examples can be viewed in our Partner Directory.
Step 2: Inquire first
Prior to completing a full grant proposal, you must submit a letter of inquiry, providing a short description of your project.  Inquiries are reviewed weekly.
Step 3: Anticipate deadlines
Deadlines are noted in each grant type description on the Apply page.
Step 4: Prepare your proposal
If you have been invited to submit a grant proposal, use the appropriate online or downloadable application that falls within the range of your request. If you use a downloaded application, electronic submissions are preferred and can be sent to grants@blandin-staging.bicycletheory.net.
Step 5: Notification
For grants $50,000 and above, Blandin Foundation program staff review all grant requests and present recommendations to the Board of Trustees, which makes the final funding decision at their meetings in March, June, September, and December. Applicants receive notification of the results within days of decision and award paid out within six weeks.
Applications for grants $50,000 and less are reviewed as they are received. You will generally receive an acknowledgment within a week and a decision within 30-45 days.
Step 6: Feedback
Blandin Foundation program staff are always trying to improve their grantmaking. Constructive feedback, both positive and negative, are welcome by calling 218-327-8724, emailing grants@blandin-staging.bicycletheory.net or leaving a review on GrantAdvisor.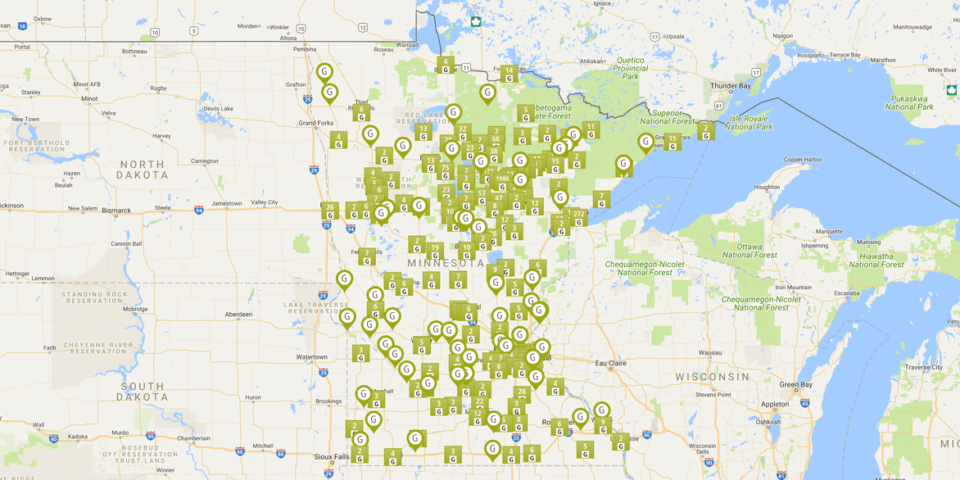 Spot Us
Wondering what we have funded in the past? This interactive map gives you a clear picture of grants paid. Click on the map pins for specific grants, or create your own search.
Contact Us
Your feedback strengthens our grantmaking. Contact us to share your thoughts. You may also subscribe to our mailing list, or contact the following Grants team members.